Jacob Funk Kirkegaard
Senior Associate
Jacob Funk Kirkegaard is a senior associate with RHG and leads the firm's advanced economies analysis. Jacob is also a senior fellow at the Peterson Institute for International Economics, where he focuses on structural economic reform issues in Europe and other OECD countries, pension and healthcare systems, labor market developments, demographic trends, immigration policy, foreign direct investments and the productivity impacts of information technology.
Jacob is the author or co-author of Transforming the European Economy (2004), Accelerating the Globalization of America: The Role for Information Technology (2006), The Accelerating Decline in America's High-Skilled Workforce: Implications for Immigration Policy (2007) and US Pension Reform: Lessons from Other Countries (2009), as well as numerous Peterson Institute Policy Briefs and Working Papers and other articles in academic journals and media outlets.
He speaks frequently on European and OECD country structural economic issues at the Peterson Institute, other Washington, DC think tanks, the IMF, the European Commission and various academic and private institutions. He has testified before the US Senate, the US House of Representatives and the European Parliament.
Report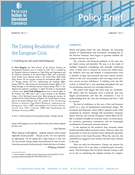 Jacob Funk Kirkegaard and C. Fred Bergsten
In this policy brief, Jacob Kirkegaard and PIIE director C. Fred Bergsten see two resolutions to the euro area crisis: jettison the monetary union, or adopt a complementary economic union.