Kate Larsen
Director
Kate Larsen is a Director at RHG and manages the firm's work on US and global climate change, including RHG's work estimating the costs of climate change as part of the Climate Impact Lab.
Prior to joining RHG, Kate worked at the White House Council on Environmental Quality where she was Deputy Director for Energy and Climate Change where she helped develop President Obama's Climate Action Plan. From 2007 to 2013, Kate worked in the Office of Climate Change at the US Department of State, serving as lead US negotiator on mitigation commitments and compliance in the UN climate negotiations. She was one of the lead contributors in designing the first universal system for measurement, reporting, and verification of developed and developing country emissions and commitments under the UN. Prior to the State Department, Kate worked at the International Energy Agency in Paris, the World Resources Institute in Washington, and the Environmental Defense Fund in California. She received a Bachelor's in Human Biology from Stanford University and a Master's of Public Administration from the University of Texas, Austin.
Book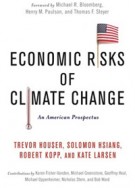 Trevor Houser, Robert Kopp, Solomon Hsiang, Kate Larsen, Michael Delgado, Amir Jina, Michael Mastrandrea, Shashank Mohan, Robert Muir-Wood, DJ Rasmussen, James Rising, and Paul Wilson
An interdisciplinary RHG-led team crafts a game-changing assessment of the economic risks of climate change in the United States.