Michael Delgado
Senior Analyst
Michael Delgado is a Senior Analyst at RHG focusing on energy and environmental markets and policy. Mike develops and deploys a range of quantitative tools to assess the macroeconomic impact of energy and environmental trends, and the market impact of energy and environmental policy proposals.
Prior to RHG, Mike worked with John Weyant at Stanford University as an energy modeler and for the NIF/LIFE team at Lawrence Livermore National Laboratory. He has a Bachelor's and Master's from Stanford.
Book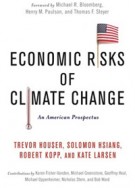 Trevor Houser, Robert Kopp, Solomon Hsiang, Kate Larsen, Michael Delgado, Amir Jina, Michael Mastrandrea, Shashank Mohan, Robert Muir-Wood, DJ Rasmussen, James Rising, and Paul Wilson
An interdisciplinary RHG-led team crafts a game-changing assessment of the economic risks of climate change in the United States.