Shashank Mohan
Director
Shashank Mohan leads the development and management of RHG's suite of economic models and other quantitative tools.  He works across RHG's practice areas to analyze the impact of policy proposals and structural developments on specific markets and broader economic trends.
Prior to RHG, Shashank worked with Columbia University's Earth Institute and the World Bank to design an electricity expansion model for Kenya and Senegal and was a program assistant at the South Asia Institute. His background is in information technology, with a previous career in software engineering at Microsoft.
Shashank holds an MPA from School of International and Public Affairs at Columbia University and is a graduate of the Indian Institute of Technology (IIT), Kharagpur.
Book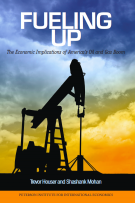 by Trevor Houser and Shashank Mohan
A new book by Trevor Houser and Shashank Mohan analyzes the economic implications of the unconventional oil and gas boom in the US.