Trevor Houser
Partner
Trevor Houser is a partner with the Rhodium Group (RHG) and leads the firm's energy and natural resources work. RHG combines policy experience, quantitative economic tools and on-the-ground research to analyze disruptive global trends. Mr. Houser's work supports the investment management, strategic planning and policy needs of RHG clients in the financial, corporate and government sectors.
Mr. Houser is also a visiting fellow at the Peterson Institute for International Economics in Washington and serves on the US Trade Representative's Trade and Environment Policy Advisory Committee (TEPAC). He is a member of the Council on Foreign Relations and the National Committee on US-China Relations and serves on the Advisory Board of Center for US-China Relations at the Asia Society. During 2009, Mr. Houser left RHG temporarily to serve as Senior Advisor to the US State Department where he worked on a broad range of international energy, natural resource and environmental policy issues.
Mr. Houser is author most recently of the Navigating the US Oil Export Debate (2015), American Climate Prospectus (2014), Fueling Up: The Economic and Environmental Implications of America's Oil & Gas Boom (2014), America's Energy Security Options (2011), A Role for the G20 in Addressing Climate Change? (2010), Assessing the American Power Act (2010), The Economics of Energy Efficiency in Buildings (2009), Leveling the Carbon Playing Field: International Competition and US Climate Policy Design (2008), The Roots of Chinese Oil Investment Abroad (2008) and China Energy: A Guide for the Perplexed (2007).
Mr. Houser speaks regularly on international energy market and policy trends to private sector, public policy and academic audiences, including regular appearances at the Peterson Institute for International Economic, the Aspen Institute, the Brookings Institution, the Council on Foreign Relations, the Center for Strategic and International Studies, the Center on Global Energy Policy, Resources for the Future, the Asia Society, the World Affairs Council, and Chatham House. He has presented to the Board of Directors or management committees of a number of Fortune 500 companies, guest lectured at a range of universities, including Harvard, Stanford, Columbia, Princeton, NYU, and UT Austin, and testified before the House Energy and Commerce Committee, the House Select Committee on Energy Independence and Global Warming, the US Helsinki Commission and the US-China Economic and Security Review Commission.
.
Book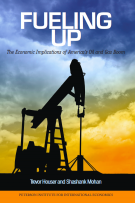 by Trevor Houser and Shashank Mohan
A new book by Trevor Houser and Shashank Mohan analyzes the economic implications of the unconventional oil and gas boom in the US.