Trevor Houser
Partner
Trevor Houser is a partner at RHG and leads the firm's energy and natural resources work. He is also a visiting fellow at the Peterson Institute for International Economics in Washington, DC, where he writes on energy, commodity and environmental market and policy issues. Trevor is an adjunct lecturer at the City College of New York, and a visiting fellow at the school's Colin Powell Center for Policy Studies. He is a member of the Council on Foreign Relations and the National Committee on US-China Relations and serves on the Advisory Board of Asia Society's Center on US-China Relations. He speaks regularly on international energy market and policy trends and has testified before the House Energy and Commerce Committee, the House Select Committee on Energy Independence and Global Warming, the U.S. Helsinki Commission and the US-China Economic and Security Review Commissions.
During 2009, Trevor left RHG temporarily to serve as senior advisor to the US State Department, where he worked on a broad range of international energy, natural resource and environmental policy issues. While in government, Trevor negotiated seven bilateral US-China energy agreements, including the US-China Shale Gas Initiative and the establishment of the US-China Clean Energy Research Center. Trevor also served as a US climate change negotiator through the Copenhagen conference in 2009.
Book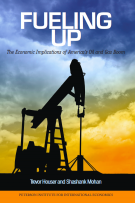 by Trevor Houser and Shashank Mohan
A new book by Trevor Houser and Shashank Mohan analyzes the economic implications of the unconventional oil and gas boom in the US.