Cross Border Investment
RHG's cross border investment team analyzes the rise of China, India and other emerging markets as trans-national investors.  Outbound emerging market direct investment and portfolio capital streams bring immediate implications for global deal flow and pricing, portfolio allocation, and international competition in many industries. Our global capital flow analysis takes a multidisciplinary approach emphasizing aggregate quantitative data grounded in deep assessment of the political economy of deals and frequent interaction with executives and regulators.
Research Director Thilo Hanemann leads RHG's cross border investment coverage. Thilo is a regular media commentator on emerging markets outward investment trends and has published widely on the topic.  He is co-author (with RHG China practice leader Dan Rosen) of the definitive work on Chinese investment in the US – An American Open Door? Maximizing the Benefits of Chinese FDI in the United States (2011). Thilo is the creator of the China Investment Monitor, RHG's path-breaking interactive web-portal for understanding Chinese direct investment in the United States.
RHG retainer clients receive all Cross Border Investment research and have regular interaction with and access to Thilo and his team.  Research includes regular updates on outward investment from China and other emerging markets, analysis of the political-economy behind trends and selected deals, and updates on relevant regulatory and political developments. RHG supports clients in the assessment of specific transactions involving emerging market players on a special project basis. Thilo and his team conduct in-house seminars for clients looking for a deeper understanding of factors transforming the global investment environment.
Interactive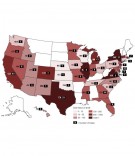 by Thilo Hanemann
RHG's interactive map of Chinese direct investment in the United States by year, industry, sector, deal type and government ownership.