Climate change is exposing assets, companies, industries, and entire economies to new financial risks. Heat waves, hurricanes, high tide flooding, and other extreme weather events have become more frequent and severe—and more costly. Chronic, longer-term shifts in temperature and other climate hazards are affecting productivity and performance. But companies and investors have been slow to respond, particularly when it comes to understanding and mitigating physical climate risks—the risks to businesses or assets emanating from current and projected changes in the climate.
With increasing awareness that physical climate risk threatens the stability of the entire global financial system, there have been growing calls from regulators and investors for better physical climate risk information. To support that demand, there is a need to understand the economic impact of physical climate risk at multiple levels, including at the portfolio and firm level to manage risk and optimize performance, and at the asset level to effectively manage portfolio construction and individual investments. Rhodium Group's Climate Risk Service combines climate science, economics, and big data analytics to provide this type of evidence-based climate risk information to companies, investors, and regulators.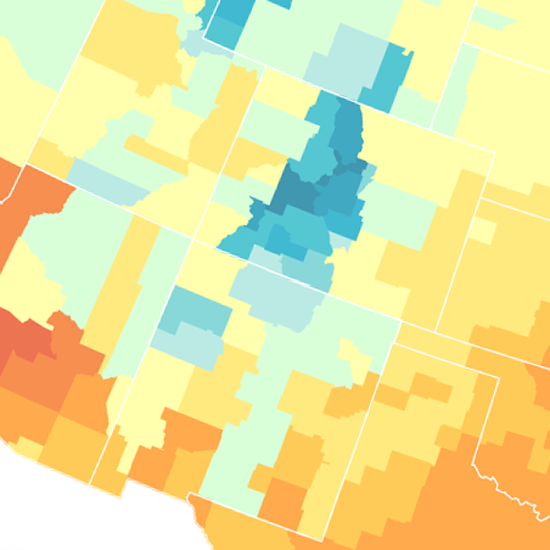 Climate Hazards
Asset-level information on how the probability of extreme weather events has changed to date due to increased greenhouse gas concentrations and how they will change going forward under a range of emissions scenarios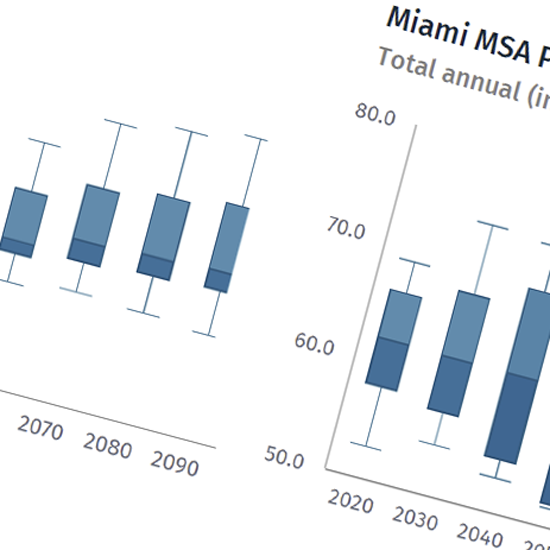 Impact and Valuation
Modeling how these changing climate conditions will affect a range of economic sectors, including quantifying the impact to asset values and macroeconomic outcomes
The Climate Risk Service provides detailed, actionable information about physical climate risks at the asset, portfolio, and industry levels. We provide probabilistic estimates of how the climate conditions driven in part by the frequency and severity of extreme weather events are changing across an investor's portfolio. We then quantify the impact of these changes on a wide range of economic and investment outcomes.
The Climate Risk Service builds on years of intensive research by Rhodium Group and its partners in the Climate Impact Lab, a collaboration of more than 30 climate scientists, economists, and data engineers from some of the nation's leading research institutions. The Climate Impact Lab integrates historical, real-world data and cutting-edge economics to produce the world's most detailed quantification of the localized impacts of global climate change, sector-by-sector. Our approach is firmly rooted in peer-reviewed science. Our research has been published in dozens of scientific journals, and is in the top 1% of most popular articles published in Science.
Climate Hazards
We provide probabilistic asset-level information on how climate hazards have changed to date due to increased greenhouse gas concentrations and how they will change through the end of the century, under a range of both IPCC and customizable emissions scenarios. This data currently covers every neighborhood in the US, including the peak hazards of temperature, sea level rise, and hurricanes, among others, and will soon be available for all regions of the world.
Impact and Valuation
Hazard information by itself does not tell the whole story, however. Because hazards like temperature and precipitation often have non-linear relationships with their economic impacts, information solely about a change in those hazards can give false indications about the magnitude, or even the direction, of the economic impact. We therefore use econometric modeling to explicitly quantify the impact of these changing climate conditions on a range of social, economic, and market outcomes—from GDP to labor productivity to building-level energy costs—and map these localized impacts to assets, portfolios, and industries.
Related Work: How Much Hotter is Your Hometown?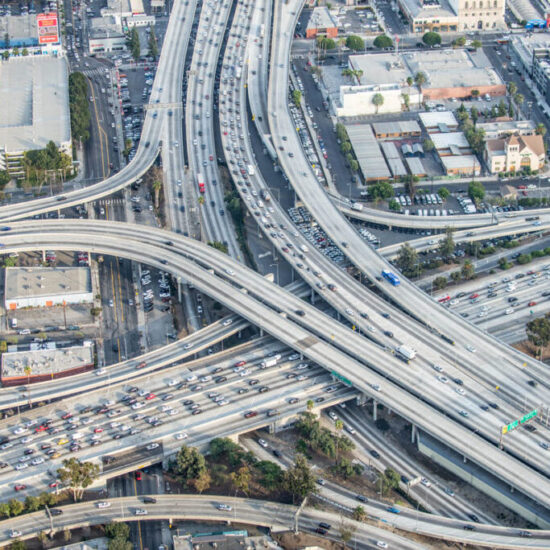 Municipal Bonds
Assessment of the macroeconomic impacts from physical climate risk that can impact the creditworthiness of bond issuers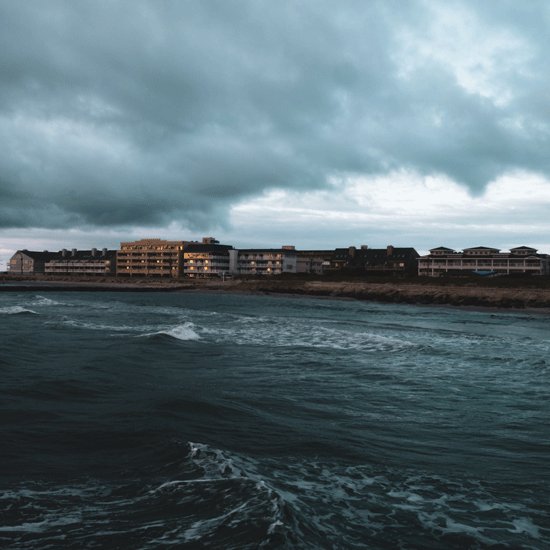 Real Estate
A comprehensive menu of probabilistic climate impact data for individual real estate assets as well as portfolio-level mortgaged-backed security analysis
The Climate Risk Service provides customized data for each client's portfolio and individual assets, for their preferred emissions scenario assumptions and time horizon. Rhodium also conducts a portfolio-level risk assessment that identifies cross-asset risk correlation. To capture uncertainty in both climate science and economics, Rhodium provides probabilistic estimates to the client for each variable, consistent with IPCC best practices.
These analytics are available for a broad set of asset classes to facilitate comprehensive understanding and management of physical climate risk across the client's portfolio. Leveraging our evidence-based, econometric models, clients can feel confident that they have an accurate understanding of both the size of the financial impact on their portfolio and, most fundamentally, whether the impacts within that portfolio are deleterious or beneficial to its performance.
Asset classes covered: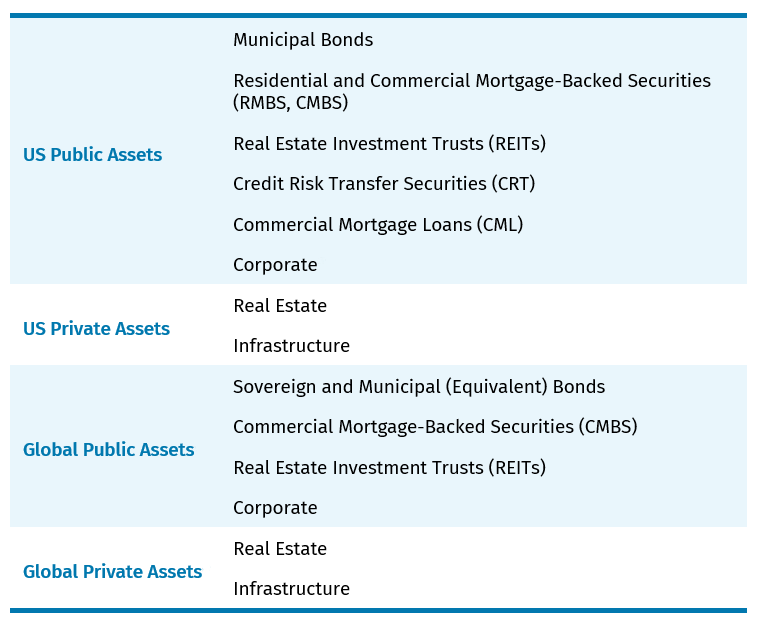 Municipal Bonds
Fixed income securities, including municipal bonds, are often a staple of a diversified investment portfolio, providing predictable returns that balance out the noise of more volatile assets. They play that role well when the credit of the issuer remains strong. As the risk of physical climate impacts broadens in the future, the risk of an issuer's creditworthiness being negatively impacted by climate change increases. Both asset owners and asset managers are therefore seeking a better understanding of risk to that aspect of their portfolio.
Rhodium meets that need with models that assess both the top-down and bottom-up perspectives of how physical climate risk will impact the macroeconomic conditions of municipal bond issuers. Probabilistic estimates of impact to GDP, unemployment, and income provide strong indicators of the creditworthiness of an issuer and the strength of the bonds that they issue. These analytics are driven by 6+ years of econometric research by Rhodium and the Climate Impact Lab, and their application has been strengthened by our partnership with BlackRock, the world's largest asset manager, to understand the risks to this nearly $4 trillion market.
Sample data selection shows a decline in GDP in Florida counties due to hurricane activity under a high emissions scenario in 2090 (left) and 2020-2090 (right).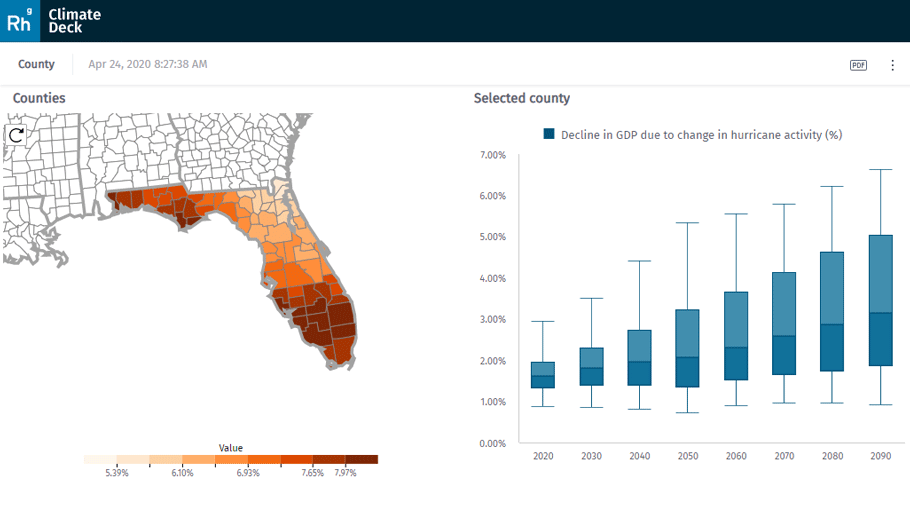 Real Estate
Investors with physical assets, such as real estate, as a core element in their portfolio need to address the issue of physical climate risk through two different lenses. First, they need to understand the risk that climate change poses to the existing portfolio. Where are the hotspots of that risk? What is the potential magnitude of that risk and what climate hazards are driving it? With that information, they can meet the expectations of their stakeholders to effectively manage it. Second, they need to consistently stay on the top of the issue by understanding how new acquisitions may impact that overall risk profile. When well-informed, their strategy for new acquisitions can help to diversify and manage physical climate risk.
Rhodium offers a two-pronged approach to address these business requirements. We first analyze the physical climate risk to real estate in the client's existing portfolio and provide insight to the questions noted above. This offers the client a deep understanding of the risk in the real estate portfolio, based on probabilistic insights on how climate hazards will impact the operational costs, potential hurricane damage, and surrounding economic conditions of each asset. Rhodium can then support a screening process for new acquisitions to quickly advise whether climate risk should be among the characteristics of an asset that may be cause for concern. Our ability to model from the present day to 2100 can support a wide range of time horizons for how long the client intends to hold the asset.
Sample data selection shows NPV of damages to an individual property asset in Duval County, FL under a high emissions scenario in 2090 (left) and 2020-2090 (right).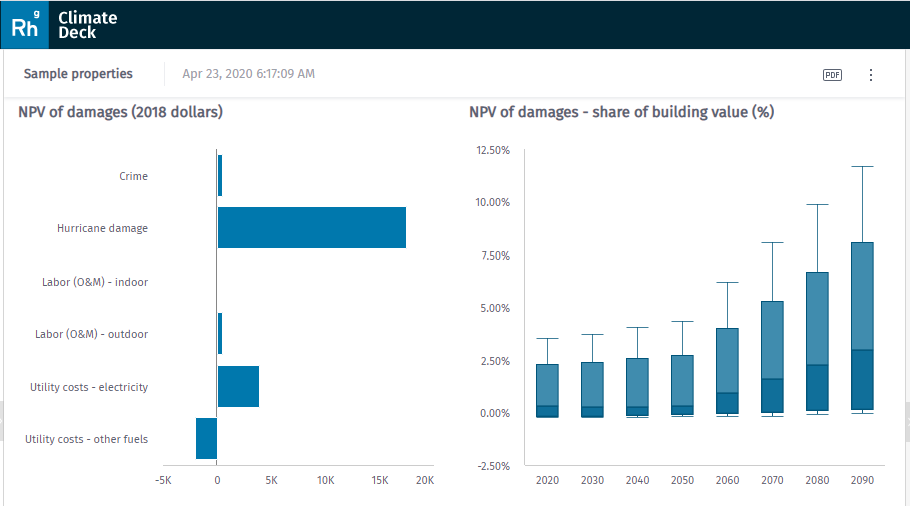 Data Delivery
Data from the Climate Risk Service can be accessed through flat files, customized reports, API (under development), and through the ClimateDeck, Rhodium's tailored, interactive platform that provides analytical tools and creates production-ready data visualizations. These options provide great flexibility and allow us to align a solution to the business requirements of the client.
Learn More
To learn more about Rhodium's Climate Risk Service, please email climaterisk@rhg.com or call +1.212.532.1157.
Related Work: Clear, Present, and Underpriced: Report with BlackRock on the Physical Risks of Climate Change