Article
China's Globalization 2.0
Many countries have long felt China's economic rise through growing imports, a substantial trade deficit, and government-directed investment to recycle ballooning foreign-exchange reserves. However, new flows such as outward investment and outbound tourism are now outgrowing traditional flows, a sign that the next stage of China's global integration has arrived. China's globalization 2.0 offers tremendous commercial and political opportunities for its economic partners, but requires a more holistic and sophisticated response from policy makers and businesses.
The past five years of U.S.-China economic relations illustrate this tectonic shift. Annual outbound direct investment (investment to create new businesses or acquire equity stakes of 10% or higher) from China to the U.S. has grown by more than 300% since 2007, according to official statistics. Alternative sources accounting for flows through third countries, such as Rhodium Group's China Investment Monitor, point to an even sharper increase of up to 1,300%.
Tourism from China to the U.S. is also substantially higher today than five years ago. The number of mainland Chinese tourists visiting America exploded from a mere trickle to more than 1.5 million in 2012. The U.S. has become the leading destination for Chinese tourists outside Asia, and Chinese travelers have one of the highest per capita spending ratios of all foreign visitors.
Traditional modes of economic interaction are growing at slower or negative rates. Direct investment by U.S. companies in China, Chinese exports to the U.S. and Chinese purchases of U.S. Treasury securities are all well off their peak growth rates. The new flows are growing from a low base, and a high growth rate still yields only modest total values. But as the new flows speed ahead, so too do their relative share and importance.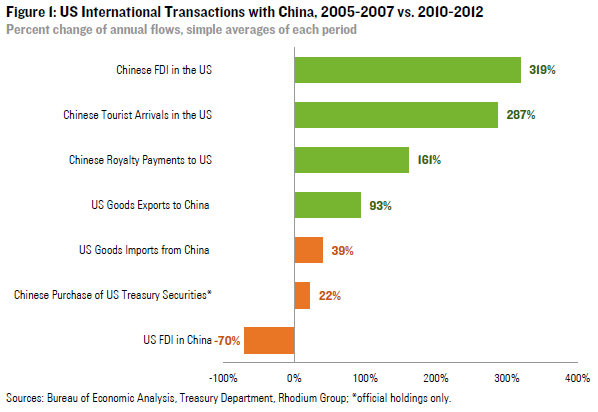 This trend will continue. China needs to shift to a more sustainable growth model, and adopting a new growth strategy will trigger a structural catch-up process in global investment and consumption. China Inc. is only as far along toward investing in the U.S. as Japanese firms were in the 1970s. We project China's global direct investment stock to grow from its current $400 billion to more than $1 trillion by 2020, with an increasing share of investment flowing to developed economies. 
The changing nature of the U.S.-China economic relationship may also change the political climate. Past integration with China brought mostly abstract benefits, such as lower prices for consumers, and several immediate downsides, such as diminishing manufacturing employment—a recipe for controversy.
But now, Chinese investment dollars are increasingly creating jobs, generating tax revenue and producing myriad other local benefits. Chinese firms employed 30,000 Americans by the end of 2012, up from fewer than 10,000 five years ago. Chinese customers are increasingly important for sustaining U.S. jobs in export industries and local services including hospitality and retail.
Sustaining those flows will require a serious update of attitudes and policies. The still fragile global economy spurs plenty of cutthroat competition to attract Chinese investors, tourists and shoppers, and the U.S. is putting itself at a disadvantage if it does not adapt to those new realities.
Read the full article at the Wall Street Journal.
Copyright 2013 The Wall Street Journal
Back to Top