US-China FDI Update: Two-Way Investment in a New Era of US-China Relations
EVENT DETAILS:
DATE: Tuesday, April 10
TIME: 8:30 a.m. –  12:00 p.m. EST
LOCATION: Covington & Burling LLP, 850 10th St NW, Washington, D.C., 20001
RSVP: Register here.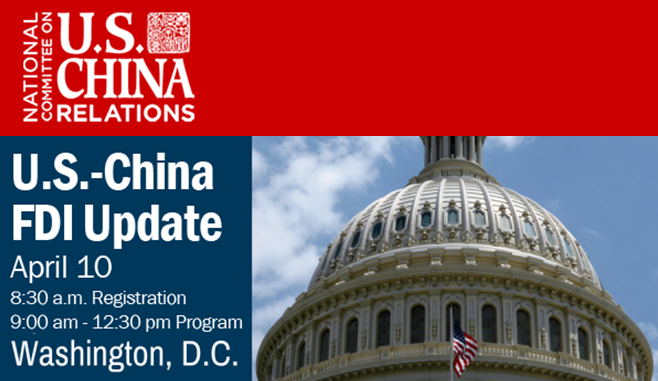 After reaching a record $60 billion in 2016, two-way US-China foreign direct investment (FDI) flows have been squeezed into a diminished position from both sides of the Pacific. In 2017 the value of completed Chinese FDI transactions dropped by over a third as Beijing re-imposed capital controls and Washington toughened screening of high-technology acquisitions. The value of newly announced transactions dropped by more than 90%. The 2018 outlook is more uncertain still. President Trump has designated China a strategic competitor, a label not applied since 2000, and Washington is contemplating a disruptive array of more restrictive China policies to respond to perceived unfairness, including greatly stepped up investment screening.
On April 10, Rhodium Group and the National Committee on U.S.-China Relations will host an event in Washington D.C. to release two studies that will shape the public debate on these urgent topics: Two-Way Street, the definitive analysis of US-China FDI trends from 1990 through 2017; and New Neighbors, the seminal analysis of local impacts from Chinese FDI across every US congressional district. This event is part of the U.S.-China FDI Project, and is the most important presentation of research on US-China FDI of 2018.
Speakers & Panelists
Amy Ceclio, Principal, Albright Stonebridge Group
Eric Chewning, Deputy Assistant Secretary of Defense for Manufacturing and Industrial Base Policy, Office of the Secretary of Defense
David Fagan, Partner, Covington & Burling, LLP
Thilo Hanemann, Director, Rhodium Group, and report author
Kenneth Jarrett, President, AmCham Shanghai
Stephen Orlins, President, NCUSCR
Daniel Rosen, Founding Partner, Rhodium Group, and report author
Bios available on the NCUSCR website.
________________________________________
Registration is required by noon on Friday, April 6. We invite you to register for this event by visiting the NCUSCR website. Additional release events will also be held in Shanghai on April 17 and in Beijing on April 19.