Near-Term Policy Opportunities for Carbon Removal with Direct Air Capture
EVENT DETAILS:
DATE: Thursday, May 9
TIME: 9:30 a.m. –  11:00 a.m. ET
LOCATION: Russell Senate Office Building, 2 Constitution Ave NE, Room 385, Washington, DC, 20002
RSVP: Register here.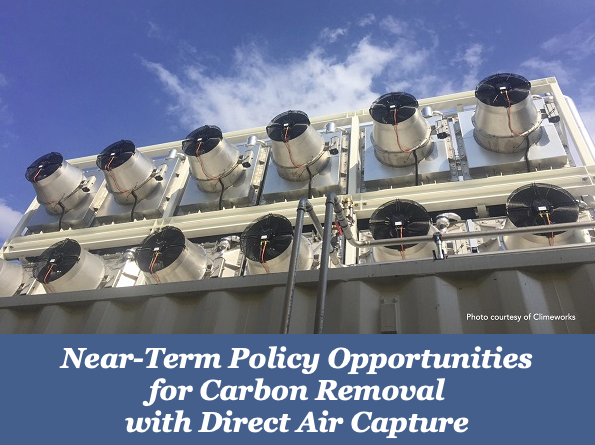 Direct air capture is an innovative technology that removes carbon dioxide directly from the air, allowing it to be turned into commercial products or stored permanently. Models, including the recent United Nations IPCC 1.5C Special Report, have shown that the technology is a critical part of the climate solution set. It also represents an enormous opportunity for economic growth and continued U.S. clean energy leadership. To build on a recent National Academies report that outlined the need for robust federal R&D on direct air capture, the Rhodium Group conducted first-of-its-kind modeling to identify the most impactful near- and long-term policy mechanisms to get this technology to scale.
Join us for a first look at the Rhodium Group report, a presentation from lead author John Larsen, and a discussion on the policy opportunities and barriers to direct air capture technology advancement with leading experts, businesses, and policymakers to learn how direct air capture can build a cleaner and more efficient economy, bolster our technology leadership, and reduce carbon pollution.
---
Featuring:
Etosha Cave
Founder, Opus 12
Lori Guetre
Strategic Business Development, Carbon Engineering Ltd.
John Larsen
Director, Rhodium Group
Hosted by