Report
A New Record Year for Chinese Outbound Investment in Europe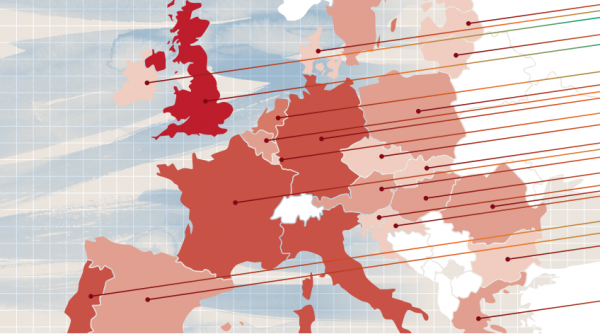 A new report by Rhodium Group in partnership with the Mercator Institute for China Studies (MERICS) explores investment patterns in Europe.
Chinese investment in Europe has grown exponentially in recent years, as discussed in our in-depth special report ("Chinese FDI in Europe and Germany – Preparing for a New Era of Chinese Capital") released last year. This note provides an update on Chinese investment patterns in Europe in 2015. We find that Chinese outbound foreign direct investment (OFDI) hit a new record high of EUR 20 billion last year, illustrating China's potential to become an important source of capital for Europe. At the same time, the competition among EU states for Chinese capital has intensified, which already weakens European leverage vis-à-vis China on  important   strategic   questions. Moreover, investment patterns in 2015 further aggravate existing economic concerns related to Chinese investment,  most importantly the lack of equal market access for European companies in China and potential market distortions through state-owned and state- supported enterprises. Addressing those concerns now is critical as China expects to deploy an additional USD 1 trillion in outward FDI in the coming five years in Europe and globally.
China's global outbound FDI continued to surge in 2015 and the Chinese leadership touts investment as a new pillar of China's positive contributions to the global economy. China's global outward FDI has been on an impressive growth trajectory for the last decade and flows climbed to a new record high last year. While official full-year data is not yet available, we estimate that outward FDI flows hit USD 130-140 billion in 2015, up from USD 123 billion in 2014. China's global OFDI stock now exceeds USD 1 trillion, triple the amount compared to just five years ago. This impressive growth has turned China from a small player to one of the world's largest exporters of FDI, accounting for almost 10% of global OFDI flows.
China's rapid ascent to an exporter of capital harbours huge potential for host economies, and the Chinese government has discovered OFDI as the new showcase for China's positive contribution to the global economy. Chinese investment now takes a top spot on the agenda of major diplomatic occasions as China is eager to counterbalance growing negativism about falling Chinese demand for foreign goods and China's ballooning trade
surpluses. Chinese diplomats also increasingly use the promise of investment and other financial flows as a diplomatic instrument to seek politically favourable outcomes in negotiations with the EU and its member states.
Back to Top