Note
China's Chip Industry: Running Faster But Still Falling Behind
Beijing is determined to develop a leading edge semiconductor ecosystem. China's recent Five Year Plan shows that the funding taps for Chinese firms pursuing chip-related projects will stay open for the foreseeable future, channeling hundreds of billions of dollars in their direction. Western competitors, however, are also poised to benefit from greater capital investments and government support. The latest evidence of this was the White House Chips Summit. This renewed commitment will move the goalposts for Chinese chip firms and the Chinese government more broadly.
While Chinese manufacturing firms can be expected to continue to advance in certain segments of the industry, we may look back on 2021 as the high-water mark of China's competitiveness relative to western industry leaders in leading edge chip fabrication technologies.  China is unlikely to wriggle free of its chip chokepoints anytime soon. In this note, we address the challenges China faces—both technical and commercial—in its drive for semiconductor self-sufficiency, and explore how Beijing's policies and the chip shortage have reshaped industry dynamics and the geopolitics of semiconductors.
China's Indigenization Challenge
In recent months, two heavy hitters in the Chinese semiconductor industry have hit major roadblocks. Wuhan Hongxin Semiconductor, which had landed TSMC CTO Chiang Shang-Yi as its CEO and promised to start producing 14 nanometer chips out of the gate, was exposed as a fraud and went belly-up in late 2020. Tsinghua Unigroup, a firm with tens of billions in state capital and a poor record of managing acquisitions, recently defaulted on a mainland-issued bond.
Even if you set these two firms aside, the Chinese chip industry as a whole has not covered itself in glory in recent years. In 2015, as part of its Made in China 2025 plan, Beijing set a goal of producing 70% of the chips consumed in China. That number has risen from 10% to just 16% in the past five years, and semiconductor research firm IC Insights believes that number will stand at just 19.4% in 2025. Government Guidance Funds, the Chinese government's attempt to marketize industrial policy (particularly at the provincial level and below), still suffer from misaligned incentives that allow for debacles like Hongxin. Local officials face pressure to support national initiatives by spending money in industries where they do not have the know-how to conduct proper due diligence. The result is that investments seldom flow to the most promising firms, but instead to the ones that can spin the best yarn.
Although fabless design firms like Huawei's HiSilicon have reached world-class status, they have a long road ahead of them in their quest for a self-reliant ecosystem. In critical segments of the supply chain—from electronic design automation (EDA) tools of the sort produced by Synopsis and Cadence or manufacturing equipment designed by firms like ASML and Nikon—Chinese firms are serious global laggards and will struggle to generate the global network effects needed for a big leap forward.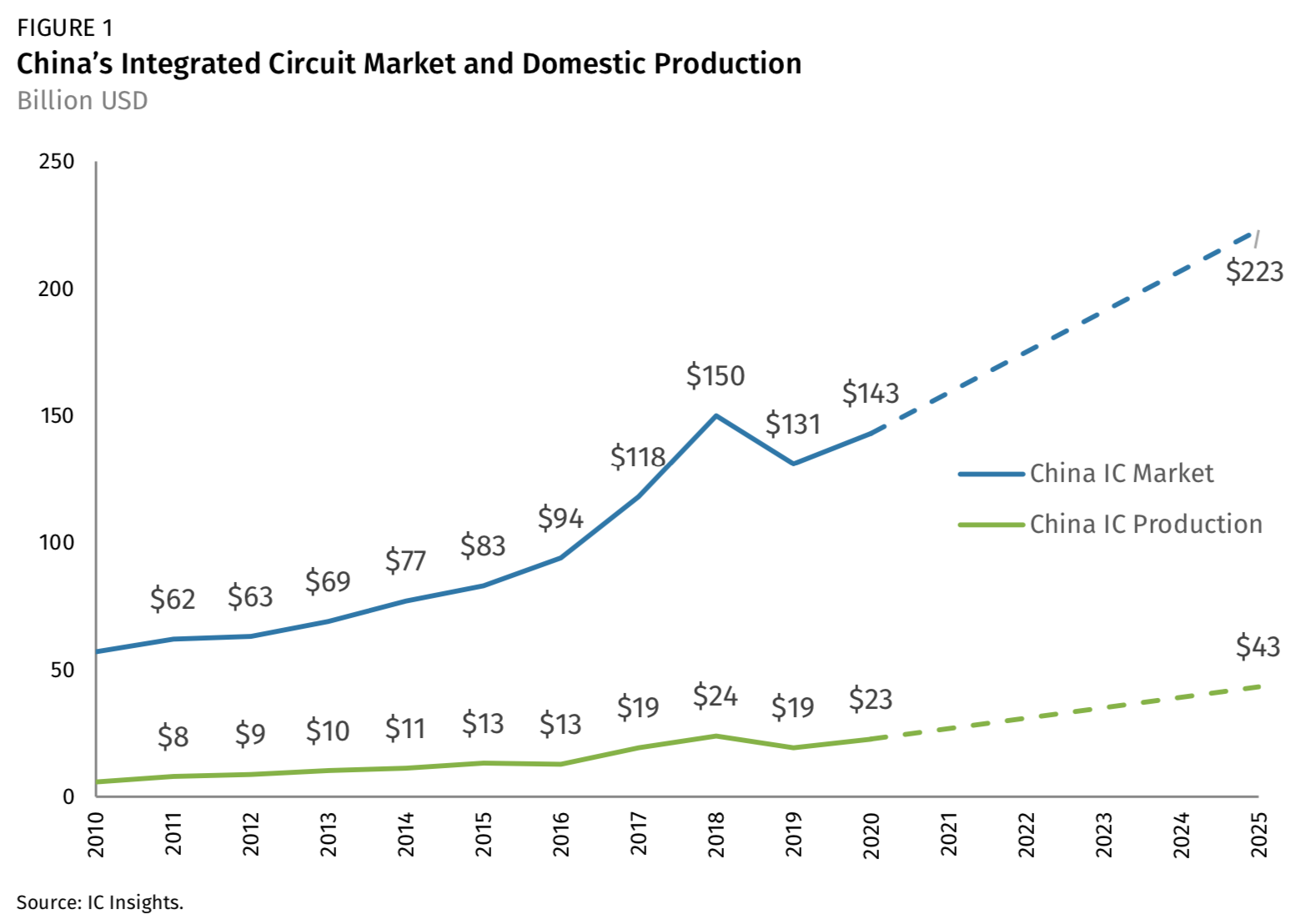 Unfortunately for Beijing's policy planners, the heavy capital investments they will bring to bear cannot, on their own, resolve the challenges facing indigenization efforts. For instance, China's small semiconductor manufacturing equipment (SME) industry is unlikely to profitably absorb the billions that are likely to come its way. Forcing Chinese fabs to work with substandard domestic SME firms may, in the end, delay attempts to boost laggard yields. The yield of any fab line—or the fraction of dies on wafers that don't have to be thrown away over the course of manufacturing—is the most important factor in improving profitability. Decreasing yields in the name of indigenization will only increase the amount the Chinese government will need to spend to support its chip industry. The decades of IP and broader industry lock-in built into EDA tools leaders Cadence and Synopsis make overcoming western dominance in this segment of the supply chain a formidable challenge.
Although over the medium-term Chinese universities are producing more than enough STEM graduates to generate a thriving semiconductor ecosystem, the quality of education still lags behind western universities, and years of know-how working with the highest-end industry technology is necessary to succeed on the cutting edge. Open-source hardware may lower the barriers to entry and one day democratize microchips just as Github-hosted technology powers China's software tech giants today, but such an ecosystem could take decades to develop.
China's industrial policy has racked up significant successes in the recent past, subsidizing Chinese firms into a dominant position in the global solar industry and a competitive one in commercial shipbuilding and high-speed rail. However, achieving Beijing's stated goal of a self-sufficient leading edge microchip ecosystem free of western chokepoints is orders of magnitude more difficult. This is made even harder by the technological dominance of foreign firms and their home governments' newfound resolve to support them.  There is no guarantee that China will generate a return on its investment no matter how much capital it deploys. Many firms may end up requiring more and more investment over time. Against this backdrop, Beijing's patience could run thin, particularly as overall credit volumes continue to slow in China and demand for refinancing and recapitalizations are likely to rise.
Beijing's Policies and Chip Shortages
Beijing's moves are spurring greater support for western chip players. Policies like Made in China 2025 and the focus on "dual circulation" in China's recent 14th Five-Year Plan have focused foreign attention on Chinese industrial policy and triggered a forceful reaction. Belligerent statements from Beijing and a ramping up of Chinese military exercises are concentrating minds in western capitals regarding the risks of economic disruption to Taiwan's chip industry.
Does the Chinese government see escalating economic tension with Taiwan as a way to resolve its chip challenges? Some observers in China have called for a blockade or even invasion of Taiwan in response to the auto chip shortage and the broader challenges facing its domestic industry. Such a move is highly unlikely in the near-term and would be extraordinarily risky for China's leadership. Even if it came to pass, it would not solve China's chip problem, and Beijing is surely aware of this.  An "occupied" TSMC would almost certainly lose access to advanced tools or capital equipment, face severe brain drain, and its fabs could be subject to sabotage.
Alongside fears of China's industrial policy and a possible Taiwan disruption, China also has to contend with events beyond its control driving a renewed foreign focus on supporting innovation at home. The post-COVID focus on supply chain resilience and the global chip shortage has shifted the debate around industrial policy in the US, Japan and the EU.
The chip shortage affecting the global auto industry is the sort of crisis that forces policymakers to think long-term rather than reach for band-aid solutions. There is little that leaders in Europe and Washington can do to alleviate a chip squeeze that promises to keep factories underutilized and consumer prices high for the better part of 2021. Taiwan's desire to show that it is a flexible and reliable partner does not change the fact that it will take four to six months (at a minimum) to retool fab lines that were reallocated to consumer products earlier in 2020. Headlines about chip shortages are likely to continue well into this year, keeping the pressure on national leaders high. With nothing on the horizon to change anti-China sentiment in the US Congress, the bipartisan momentum behind chips-related funding is likely to continue through the appropriations process.
Two pieces of legislation are central to American policymakers' ambitions for the US chips industry. The passage of the CHIPS Act emphasizes support for the modernization of domestic fabs. But even more important in the medium term than the offer of up to $3bn for firms in the CHIPS Act is the promise of tens of billions for basic and applied R&D in the forthcoming Endless Frontier Act. The act is Senate Majority Leader Charles Schumer's brainchild (the fact that upstate New York features fabs and R&D labs will likely keep his resolve strong) and has received considerable bipartisan support, making its passage as part of a larger 'China Bill' likely in the coming months.
American, European, Taiwanese, South Korean and Japanese universities and national laboratories are more likely to profitably make use of the billions coming their way than the Chinese research ecosystem. It's possible a major technological breakthrough in advanced packaging or materials could level the playing field and allow for Chinese firms to compete on a more equal footing. However, given rising investment in US government and corporate R&D and the advantages that the US currently enjoys over China in its basic research ecosystem, it's more likely than not that any game-changing technology would come out of the US, giving American firms a significant advantage in adapting to a new paradigm.
Biden's efforts to forge a global tech alliance are still in the early stages, although the administration has announced its intention to establish a partnership with the Quad nations (Australia, Japan, and India) on supply chains, potentially harmonizing national research agendas and production targets. One country to watch is India, which has both the high-end talent and the cheap labor costs to eat into China's market share. Beijing's more assertive foreign policy increases the likelihood—though does not guarantee—that democratic nations work together to harmonize export controls, subsidy policies, and R&D agendas. The more serious this cooperation becomes, the faster Chinese industry will have to run to keep up.
Industry Tailwinds Move Goalposts for China
Perhaps more important than increasing government support are shifting industry dynamics. In recent weeks, leading Taiwanese, Korean and American firms like TSMC, SK Hynix, Samsung, and Intel have all committed to annual capex on the order of $20-30 billion for the next three to five years. New Intel CEO Patrick Gelsinger's decision to pursue a true foundry business featuring leading edge manufacturing adds another player to the mix of competitors that Chinese companies are hoping to match. These investments are not driven by short-term supply constraints but rather a broader increase in demand for leading edge chips driven by the rise of 5G, AI, and Internet of Things. A confident and rapidly growing global semiconductor industry means Chinese companies must run even faster if they hope to catch up to the global giants in capability, to say nothing of profitability.
These commitments could reshape the politics of export controls around EUV technology (controlled by Dutch firm ASML and critical for producing chips of 7nm and below) and potentially DUV as well (a lithographic technique which is no longer considered cutting edge and where Japanese cooperation would be crucial). As recently as two years ago, capital equipment manufacturers and software makers believed that sales growth would come primarily from buyers in mainland China. Now that shifting industry dynamics have ensured capital equipment manufacturers will have more orders than they can handle for years to come, the Biden administration may find it easier to persuade European and Japanese governments to impose export controls, since their firms will more readily find replacement buyers outside of China.  It is still unclear what approach the Biden administration will end up taking, but an easing of restrictions on doing business with firms like Huawei is unlikely. The president could settle on an approach, recommended recently by the National Security Commission of Artificial Intelligence, that aims to keep China at least two nodes off the leading edge.
Beijing has no magic bullets when it comes to developing its semiconductor ecosystem, and its industrial and more assertive foreign policy actions appear to be complicating the challenge of turning China into a world-class, self-sufficient chip producer that is immune to foreign chokeholds. If China is leveling the semiconductor playing field with the rest of the world, we should expect progress beyond the design and packaging spaces and into trickier areas like EDA tools and SME. In the current environment, Chinese firms are incentivized to tout breakthroughs whether they can back them up or not. So outside observers should look to tangible increases in market share as opposed to press announcements or developments in test labs. Though progress may occur on a far longer time horizon than Beijing would like, China is unlikely to abandon its push for self-sufficiency anytime soon. The key for the US and its allies will be to turn their substantial investments in this critical sector into real advances—and to work together to prevent technology leakage to China.
Back to Top