Report
China's Rise in Global M&A: Here to Stay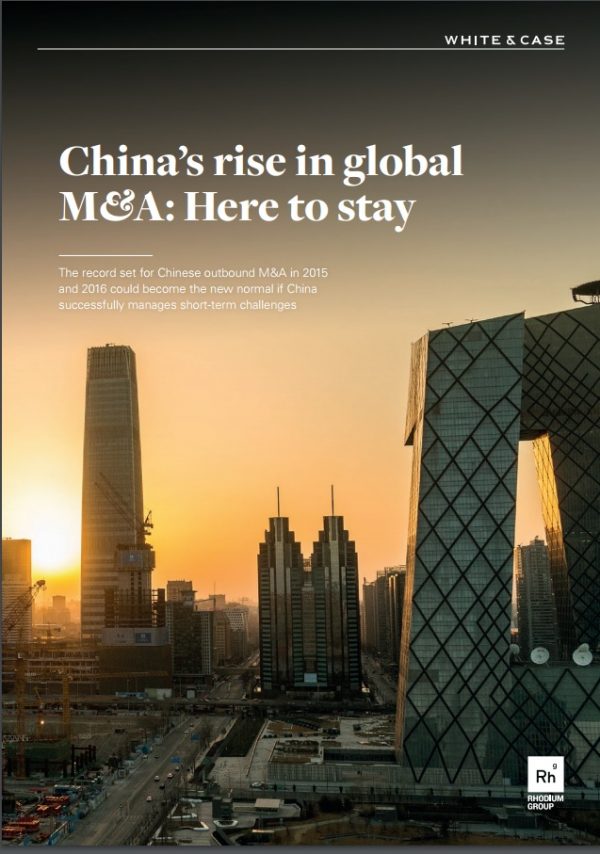 A new report by Rhodium Group and global law firm White & Case LLP discusses the evolution of China's outbound M&A, and the short-term risks and long-term potential of China outbound investment.
China has become a key player in global cross-border M&A.

Following almost a decade of consistent double-digit growth, in 2016 China became the second-largest global investor behind the United States with US$140 billion in completed M&A transactions. The top targets for Chinese buyers in 2016 were industrials, high tech, financials and entertainment.
In the near term, Chinese outbound M&A faces certain challenges. 

Balance of payments pressures have necessitated stricter administrative controls on outbound investments, which may impact deal flows in 2017. The indebtedness of Chinese corporations and overleveraging in China's financial system as a whole creates risks, while higher borrowing costs and market-based interest rates may temper overseas buying by Chinese companies. Chinese firms will face rising scrutiny abroad due to growing national security concerns, complaints about asymmetries in market access and discontent about the role of government and industrial policy in China's outbound investment.
However, long-term growth potential for Chinese outbound investment is tremendous. 

Outward investment surpassed inward investment for the first time last year, and China's global investment footprint is still tiny compared to China's economic size. Barring a collapse of Chinese economic growth, China's global outward foreign direct investment (OFDI) flows could average anywhere from US$140 billion to US$275 billion annually over the next decade.
China's future outbound investment trajectory is contingent on the implementation of domestic economic reforms. China's role as global investor in the decade to come will depend on successfully managing current challenges and implementing much-needed structural reforms that address concerns about external financial wherewithal, domestic banking system health, responsible corporate borrowing and exchange rate management.
China's record outbound M&A levels in 2015 and 2016 could become the new normal. 

If China successfully manages near-term challenges and the historical relationship between M&A and outbound investment holds, annual M&A spending by Chinese companies will likely exceed the record levels of Chinese global M&A activity in 2015 and 2016.
Explore the report online
Back to Top