Report
Chinese FDI in Europe: 2019 Update
A new report by Rhodium Group and the Mercator Institute for China Studies (MERICS) looks at Chinese investment in the European Union in 2019 and highlights an increase in R&D collaboration between Chinese firms and European entities as FDI barriers rise.
The analysis shows that Chinese foreign direct investment (FDI) in the European Union declined for a third straight year in 2019, with the combined value of completed Chinese FDI transactions in the EU falling to EUR 11.7 billion, down 33% from 2018 levels (EUR 17.4 billion). This represents the lowest investment level since 2013 and a drop of  69% from the peak of EUR 37.3 billion in 2016.
This drop was not specific to the EU: Chinese global FDI continued to fall in 2019, due largely to domestic variables which made it more difficult for Chinese firms to raise funding and get approval for overseas investments.
The global decline also reflected a growing political and regulatory backlash against Chinese acquisitions, particularly in the US but also in Europe.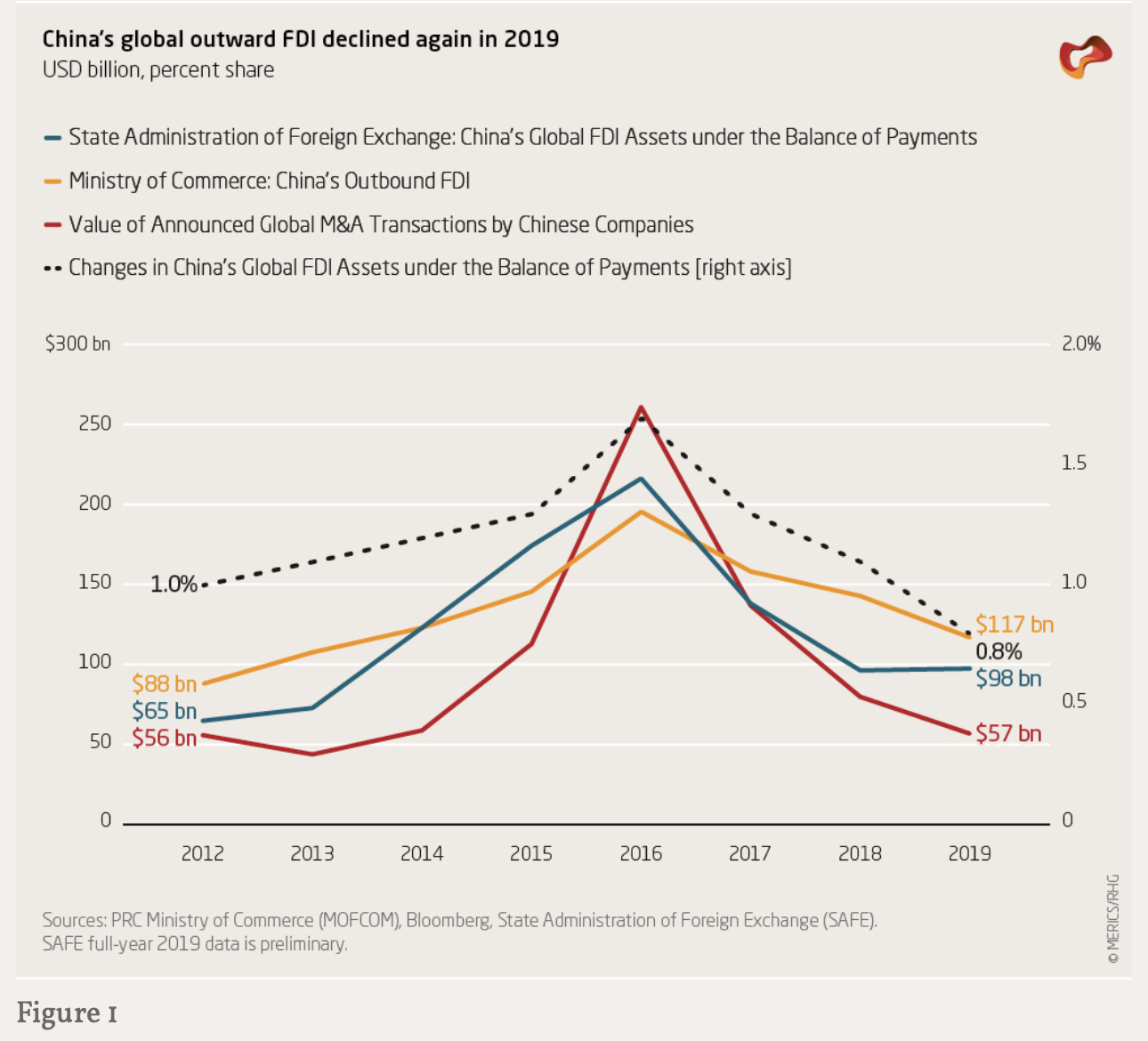 In 2019, the geographic distribution of Chinese investment in Europe changed noticeably, with Northern Europe supplanting the "Big Three" economies (the UK, Germany and France) as the top destination, largely due to a few large M&A deals. Northern Europe made up 53 percent of all Chinese investment in the EU in 2019. That compared to 34 percent for the UK, Germany and France combined. Investment in all of these three countries declined, with the UK holding up best. Since 2000, the UK has attracted the most Chinese FDI in the EU by far, with a cumulative volume of EUR 50.3 billion, compared to EUR 22.7 billion for Germany, the second-ranked country.
While state-owned companies once dominated Chinese investment in Europe, their share of total FDI has been declining in recent years and 2019 was no exception. Last year, SOEs made up just 11% of aggregate investment in Europe, the lowest level since 2000, reflecting some major acquisitions by private players. Overall, the consumer products and services sector was the top recipient of Chinese FDI in Europe, attracting more than 40% of the total. Despite increased European scrutiny around Chinese investment in tech-related sectors, ICT attracted the second largest share of Chinese investment, followed by the automotive sector.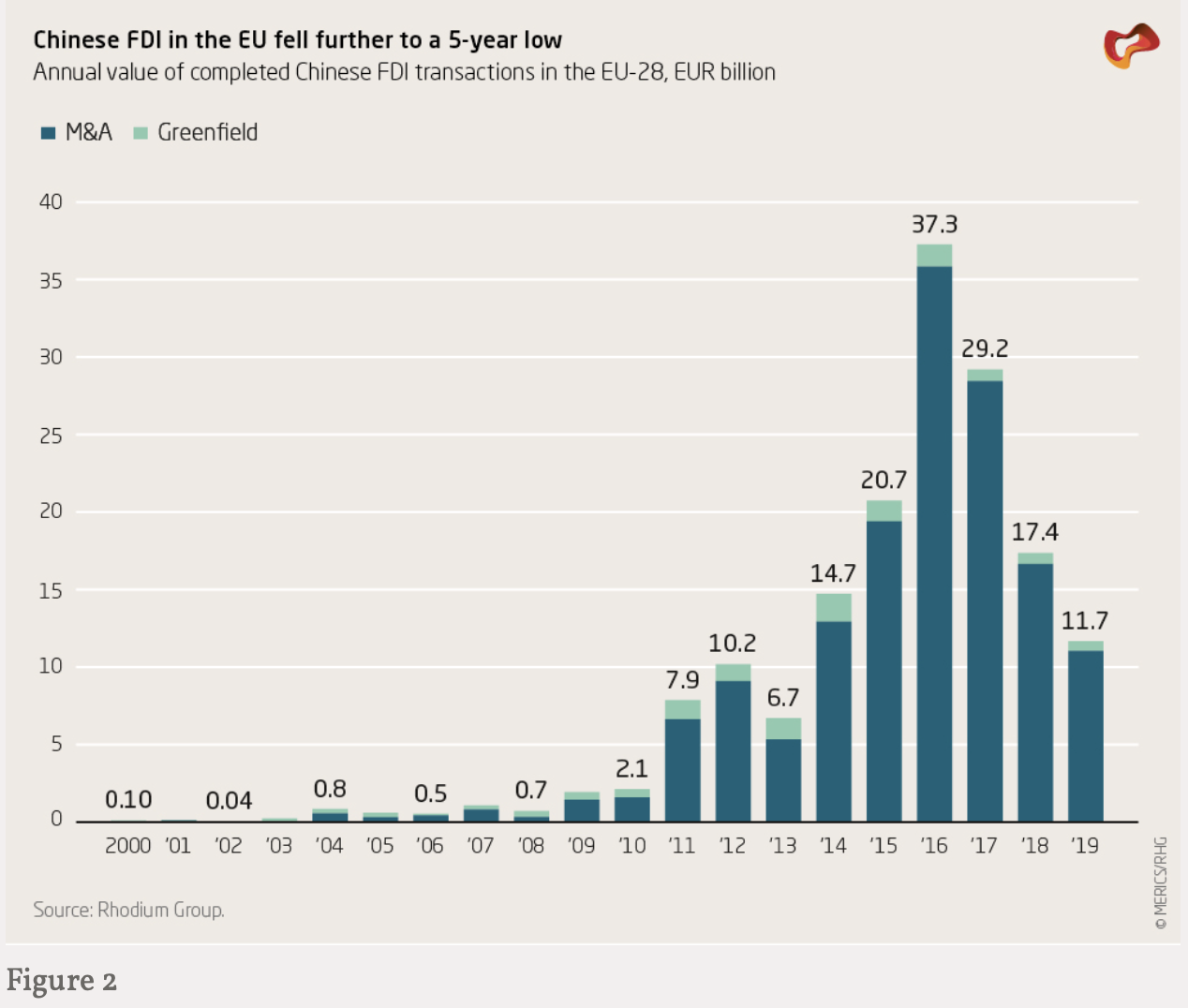 Amid the global COVID-19 pandemic, early data points suggest that the first quarter of 2020 will show the lowest outbound deal volume from China in almost a decade. While the plunge in equity prices arising from the pandemic could create buying opportunities in Europe, an opportunistic Chinese buying spree seems less likely than in past periods of market weakness due to liquidity pressure on Chinese firms and ongoing capital controls.
The report also took a closer look at Sino-European R&D partnerships and found that non-equity types of activity have been growing rapidly as traditional FDI volumes have fallen back. The COVID-19 outbreak has illustrated the importance of cross-border R&D collaboration for tackling global challenges like pandemics and climate change. But such partnerships can also offer Chinese parties access to potentially sensitive European assets. While EU regulatory efforts have focused on FDI and other equity investments, the risks tied to R&D collaboration have garnered comparatively little attention. Europe must remain vigilant to partnerships that could facilitate the transfer of critical and dual-use technologies to China's military-industrial complex or contribute to the state's ability to exert mass control over its population. In light of these risks, European policymakers may want to consider expanding their scrutiny beyond equity investment to include such partnerships.
Read the Report
Back to Top