Report
Chinese FDI in Europe: 2021 Update
This report, from Rhodium Group and MERICS, summarizes China's investment footprint in the EU-27 and the United Kingdom (UK) in 2021, analyzing the impact of the pandemic as well as policy developments in Europe and China. Below are the main findings and a link to the full report:
Chinese outbound investment to the rest of the world stalled in 2021. While overall global FDI rebounded strongly, Chinese outbound FDI edged up by just 3 percent to USD 114 billion (EUR 96 billion). Meanwhile, China's global outbound M&A activity slipped in 2021 to a 14-year low, with completed M&A transactions totaling just EUR 20 billion, down 22 percent from an already weak 2020.
China's FDI in Europe (EU-27 and the UK) increased but remained on its multi-year downward trajectory. Last year, completed Chinese FDI in Europe increased 33 percent to EUR 10.6 billion, from EUR 7.9 billion in 2020. The increase was driven by two factors: a EUR 3.7 billion acquisition of the Philips home appliance business by Hong Kong-based private equity firm Hillhouse Capital and record high greenfield investment of EUR 3.3 billion. Still, 2021 was the second lowest year (above only 2020) for China's investment in Europe since 2013.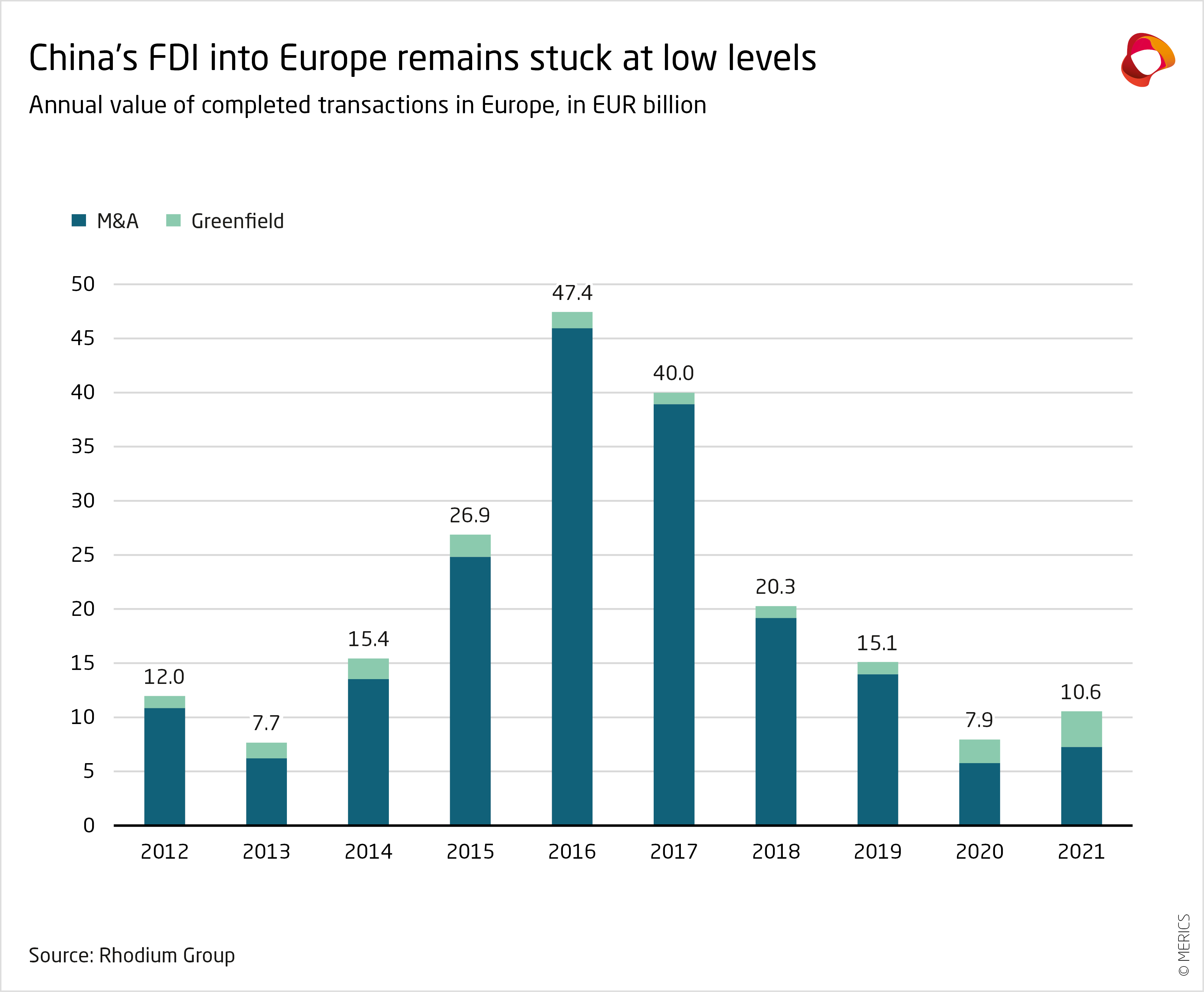 The Netherlands received most Chinese investment, followed by Germany, France and the UK. Hillhouse Capital's takeover of the Philips business made the Netherlands the biggest destination for Chinese investment in 2021. Germany, France and the UK accounted for another 39 percent of total Chinese investment.
The share of Chinese state-owned investors fell to a 20-year low in Europe. Compared with 2020, investment by state-owned enterprises (SOEs) decreased by 10 percent. Their share of total Chinese investment also reached its lowest point in 20 years, at 12 percent. SOE investment was concentrated in energy and infrastructure, particularly in southern Europe.
Consumer products and automotive were the top sectors. Due to the Hillhouse Capital acquisition, investment in consumer products surged to EUR 3.8 billion. Activity in automotive was driven by Chinese greenfield investments in electric vehicle (EV) batteries. Together, the two sectors accounted for 59 percent of total investment value. The next three biggest sectors were health, pharma and biotech; information and communications technology (ICT); and energy.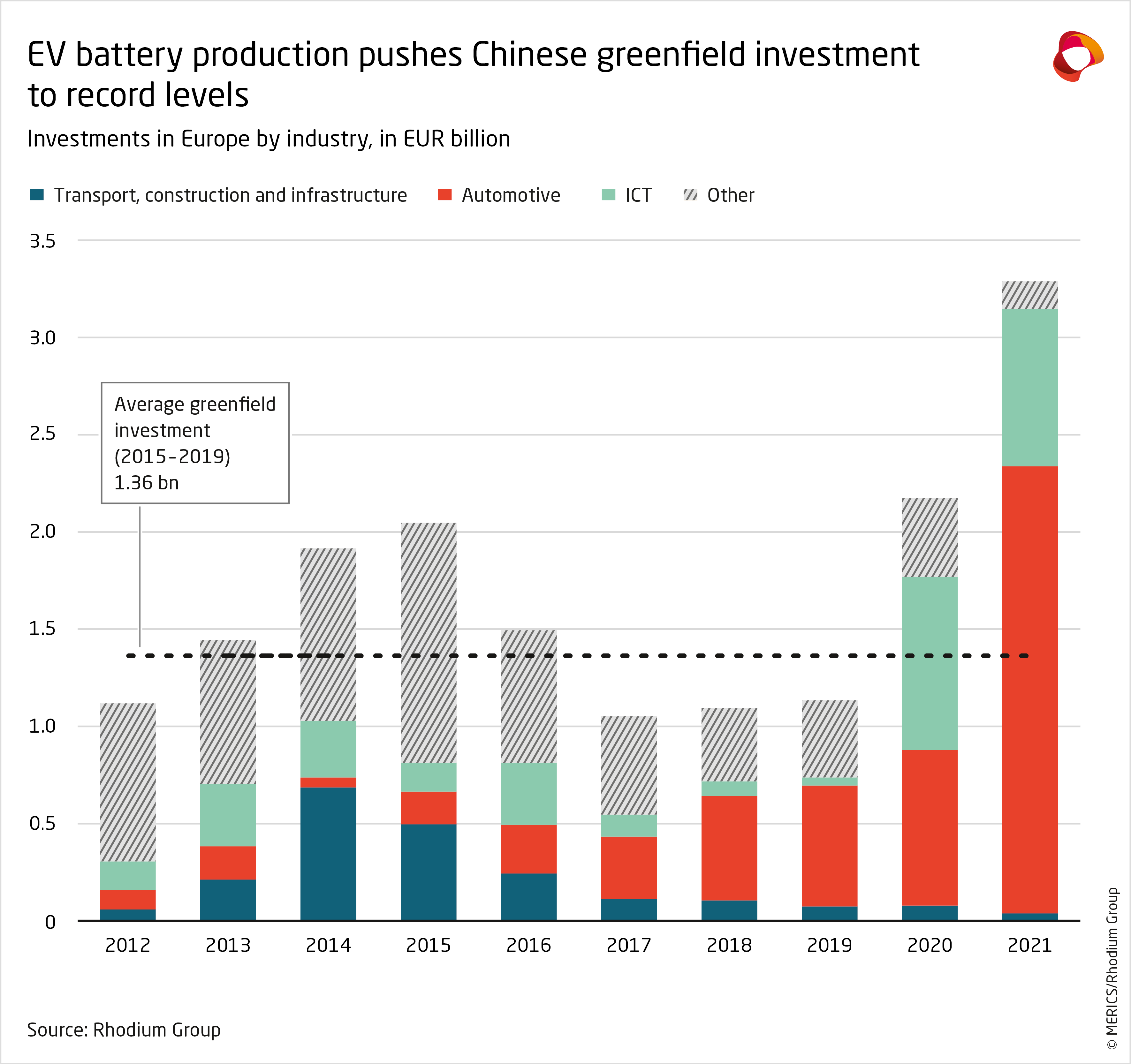 The nature of Chinese investment in Europe is changing. After years of being dominated by M&A, Chinese investment in Europe has become more focused on greenfield projects. In 2021, greenfield investment reached EUR 3.3 billion, the highest ever recorded value, making up almost a third of all Chinese FDI.
Chinese venture capital (VC) investment is pouring into European tech start-ups. In 2021, Chinese VC investment in Europe more than doubled to the record level of EUR 1.2 billion. It was concentrated in the UK and Germany, and focused on a handful sectors including e-commerce, fintech, gaming, AI and robotics.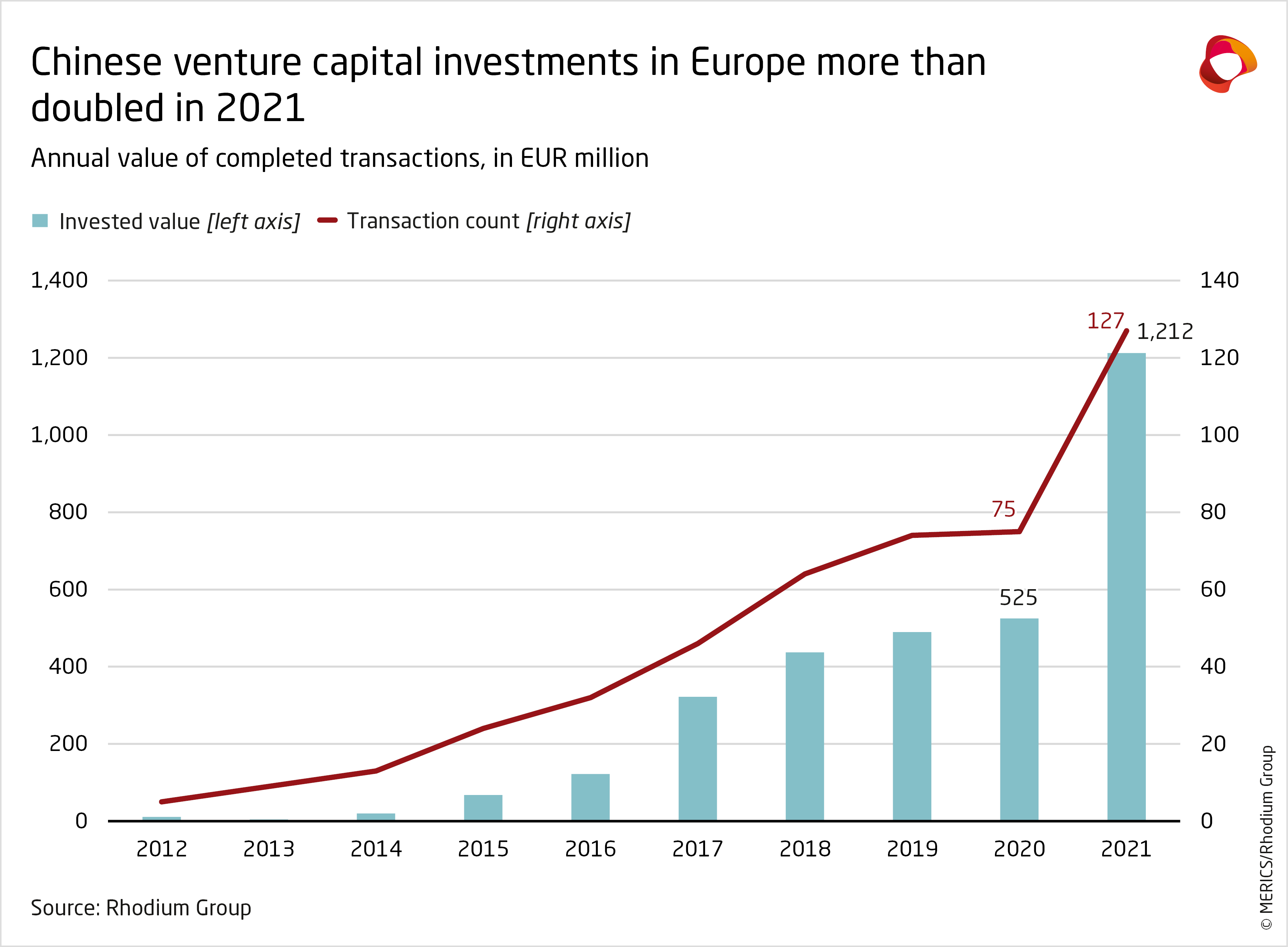 Chinese investment in Europe is unlikely to rebound in 2022. The Chinese government is expected to stick to strict capital controls, financial deleveraging and Covid-19 restrictions. The war in Ukraine and expanding screening regimes and scrutiny of Chinese investment in the EU and the UK will create additional headwinds.
Read the Full Report
Back to Top