Report
Chinese FDI in North America vs. Europe
A new report produced by Rhodium Group in partnership with Baker and McKenzie explores the diverging patterns of Chinese investment in North America and Europe. Our research shows that completed Chinese Foreign Direct Investment (FDI) into Europe and North America fell again last year, dropping from $94 billion in 2016 and $111 billion in 2017 to just $30 billion in 2018.
After declining from a peak of $48 billion in 2016 to $31 billion in 2017, Chinese FDI in North America took another dive in 2018 to just $8 billion (down 75%). The US was responsible for the majority of this, falling from a peak of $45.63 billion in 2016 and $29 billion in 2017 to just $5 billion in 2018 (down 83%).
This was the result of continued restrictions on outbound transactions in China, tighter US foreign investment reviews, and a tense bilateral relationship between the two countries. In contrast, Canada saw an uptick of Chinese investment this year, up from $1.5 billion in 2017 to $2.7 billion in 2018 (up 80%) due to several large mining acquisitions. Net of divestitures, Canada received more Chinese investment than the US in 2018.
Chinese FDI in Europe also fell in 2018 but overall held up better than in the US. Total value of completed deals was $22.5 billion in 2018, 70% down from the $80 billion in 2017. The bulk of 2017 investment came from ChemChina's acquisition of Syngenta for $43 billion. Stripping out this deal shows an underlying 40% decline in Chinese investment into Europe in 2018. Large economies including France, Germany, Spain and Sweden saw increased investment in 2018.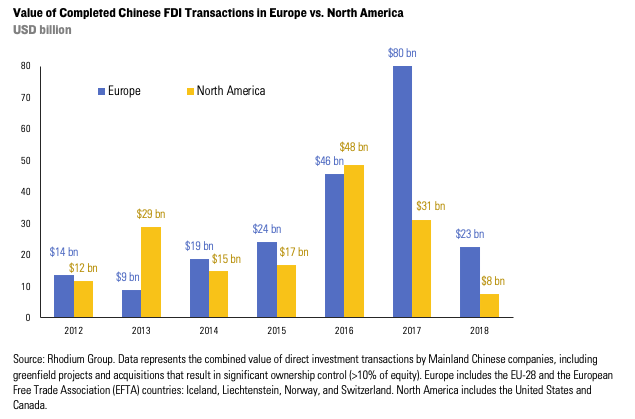 Looking ahead, the pipeline of pending transactions suggests continued divergence in 2019. Chinese investment looks to be robust in Europe in the first half of 2019, with more than $20 billion of pending transactions at the beginning of the year. The pipeline in North America remains weak with less than $5 billion of pending deals.
Read More from Baker McKenzie
Back to Top