Note
Chinese FDI in the United States: 1H 2015 Update
Reports of a $23 billion takeover bid by a Chinese company for US chip maker Micron has put the spotlight on Chinese outbound investment  activity in recent days. This note provides context on Chinese investment activity in the US economy in the first six months of 2015, important shifts in the mix of sectors and investors, and policy developments that are shaping China-US direct investment flows.
Policy liberalization translates into global deal making: The shift from an approval to a registration system has helped Chinese outbound FDI to bounce back from a temporary trough in the first half of 2014. In the first five months of 2015, China's global OFDI was up 47% according to official figures. The value of announced overseas M&A transactions also soared to new record highs.
The new face of Chinese US investments: Chinese deal flow in the US is now almost entirely driven by sectors and players that did not play any role just two years ago. Real estate and hospitality continues to be the biggest draw, accounting for 65% of total investment in 1H 2015. Technology and financial services also attracted Chinese capital, partially driven by growing venture capital and private equity activity.
A thorny path to a US-China BIT: The negotiations between the US and China over a bilateral investment agreement have entered the hard phase. Initial "negative lists" of exempted sectors were exchanged in June and initial indications did not suggest positive surprises. However, the extraordinary degree of secrecy still in effect suggests that a significant step forward during President Xi's visit to the US in September may yet be possible.
New Transactions
In 1H 2015 Chinese firms spent $6.4 billion on 88 FDI transactions in the United States, the highest first half-year figure ever recorded. The biggest transaction was Anbang's $1.95 billion acquisition of the Waldorf Astoria hotel. The number of acquisitions also reached an all-time high of 53, reflecting the growth of smaller stakes in US high-tech companies by Chinese venture capital and private equity firms (see below). The combined value of acquisitions in 1H was $5.4 billion.
With 35 projects, the number of greenfield investments was in the same ballpark as previous years. The combined value reached an all-time high ($970 million), which largely reflects the increase in big multi-year projects. Looking ahead, several new large-scale projects that were announced recently will continue to prop up this number, including manufacturing plants (Volvo's South Carolina plant) and real estate developments (Oceanwide in San Francisco and China Life and Ping An in Boston).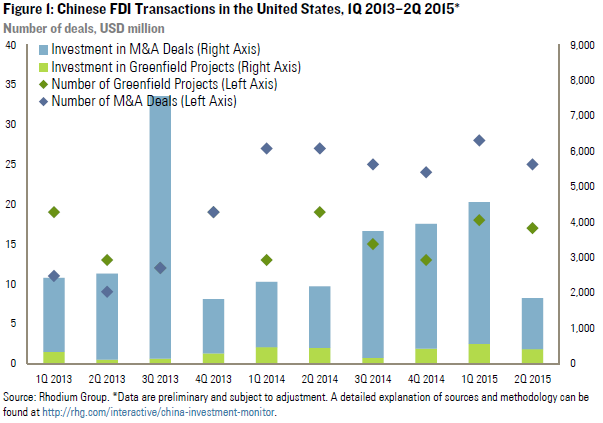 Industry trends
Real estate and hospitality was by far the biggest sector for Chinese investment in the first half of 2015, reflecting a broader structural trend that began in 2013. In the past year, commercial real estate and hotels accounted for 40% of total Chinese investment, compared to just 11% two years ago. This growth is sustained by growing investments from big private and state-owned institutional investors that are becoming more active in the US market, for example Anbang (Waldorf Astoria Hotel, 717 Fifth Ave), HNA (Red Lion Hotels), and Vanke (Bush Tower).
The second biggest sector in 1H was financial services and insurance. With its acquisition of a 20% stake in US insurer Ironshore, Fosun became the first Chinese company to invest in a sizeable US insurance company. Fosun is poised to acquire the remaining 80% of Ironshore this year. Investments by Chinese conglomerates in US insurance assets are motivated by the desire to gain access to large pools of overseas capital as well as to prepare overseas expansion and improve internal capabilities and know how.
The information and telecommunications technology (ICT) sector also remains a major draw for Chinese companies. In addition to big acquisitions in telecom equipment and servers (Motorola Mobility and IBM's x86 server business), smaller US growth companies in software and IT services have been particularly attractive investments for Chinese funds and larger internet companies (including Alibaba and Tencent). Semiconductors is another new frontier, with two large deals currently pending (Omnivision and Integrated Silicon Solution Inc.). China's Tsinghua Unigroup is also reportedly interested in acquiring US chip maker Micron for more than $20 billion, but it remains to be seen if the company will proceed with submitting an actual offer as the political and commercial viability of such a bid is unclear.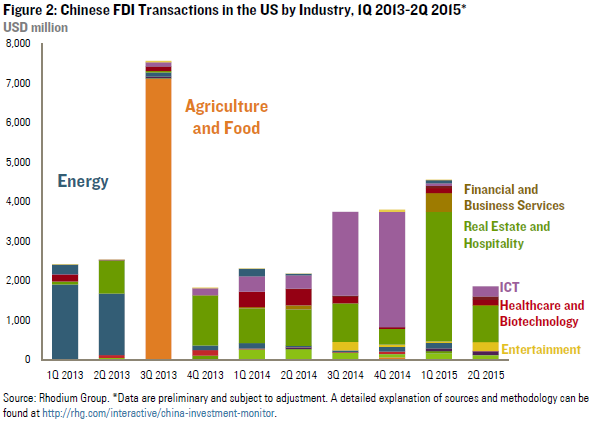 Investors
The mix of transactions in 1H 2015 shows the tectonic shift in the landscape of Chinese investors in the United States. Private investors now dominate investment flows and account for more than 80% of deals and total investment value in 1H, compared to less than 20% of annual investment only five years ago.
Within private firms we see two significant trends: first, large institutional investors and conglomerates (such as Anbang, Fosun and Ping An) now make up a large share of total investment value, and are participating in large greenfield projects such as real estate developments for the first time. Second, on the other end of the spectrum, we see a lot of activity by smaller private equity players and real economy companies (Tencent, Renren, Zhen Fund) that take strategic or financial stakes in US growth companies.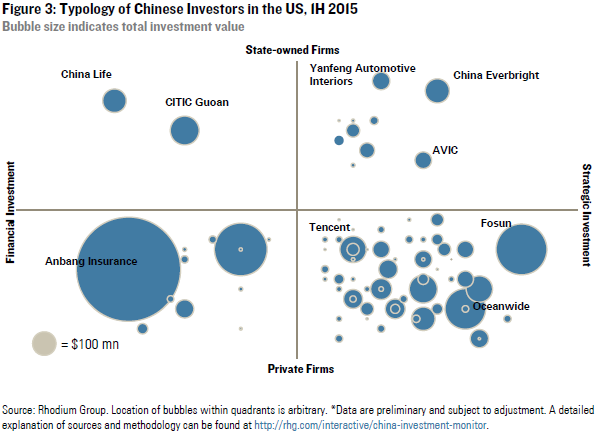 Policy developments
China: policy reform boosts global deal flow
China implemented far-reaching reforms of its outbound FDI policy framework in October 2014 that abolished regulatory approvals for most outbound investment transactions. Official statistics and proxies for overseas investment activity suggest that these steps have contributed to a significant rebound in outbound deal flow (Figure 4).
Official figures from MOFCOM show a 47% year-on-year growth for China's global OFDI in January-May this year. The number of newly approved and registered overseas subsidiaries from MOFCOM has grown markedly as well: more than 800 foreign subsidiaries and acquisitions are now approved/registered by MOFCOM every month, compared to just 300 less than two years ago.
Data on announced cross-border acquisitions by Chinese companies also show a surge since the fourth quarter last year, swinging from an average of $4-5 billion per month for the last two years to $6-8 billion in the past six months. That said, the gap between officially reported outbound FDI flows and completed M&A transactions remains, suggesting that at least a portion of the growing OFDI outflows are portfolio investment flows disguised as direct investment.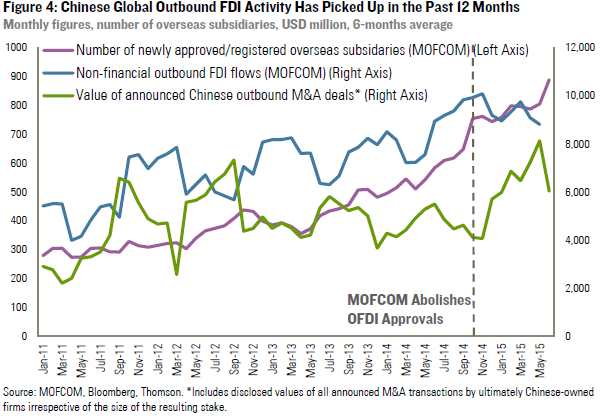 The recent relaxation of foreign exchange rules for OFDI may further fuel these non-deal related outflows. Since June 1st, companies no longer have to apply at the State Administration of Foreign Exchange (SAFE) for approval of foreign exchange transactions related to outbound FDI. Instead, companies can now conduct this step at their local banks. Taken together, these steps have largely liberalized capital outflows under the outbound FDI channel.
The implementation of these policies – despite significant worries about capital outflows in the first half of 2015 – shows that Chinese policymakers remain committed to the gradual opening of the capital account for institutional investors and the corporate sector. At the same time, they follow a liberalization approach with Chinese characteristics by keeping the registration system in place to give authorities the opportunity to monitor outflows and, if necessary, block or delay problematic transactions (for example, by not accepting registration documents). We should see additional measures in the near future to strengthen the regulation and supervision of outflows through the OFDI channel with the goal of curbing illicit flows.
US: BIT negative list negotiations ahead of Xi visit
After two years of bilateral investment treaty (BIT) talks, the US and China in June officially exchanged proposals for "negative" lists with industries excluded from pre-establishment rights under the BIT. The next two months leading up to President Xi's September visit to the US will be a critical phase of negotiation over the scope of these lists. While the content of the lists is not public, there are faint initial indications that the Chinese submission did not meet hopes of a significant improvement from the existing lists of sectors restricted and prohibited for FDI, and the circulated negative lists for the free trade zones. However, the extraordinary degree of secrecy suggests that expectations for a step forward during President Xi's visit to the US in September are not completely shot.
Good news on BIT negotiations would be particularly important at this juncture, as Chinese investment is already becoming part of the campaign for the 2016 US presidential election. The Republican National Committee recently launched an attack on Hillary Clinton for not intervening in the sale of bankrupt advanced battery maker A123 to a Chinese company in 2012. Recent comments and a campaign website suggest that this specific transaction and the broader topic of Chinese investment will remain a part of the campaign going forward. Ironically, A123 is one of the biggest success stories of Chinese investment in the US. A123's new Chinese parent company Wanxiang has managed to save more than 500 US jobs, turn the company to profitability within a few years, and recently announced a $200 million investment to expand existing production facilities in Michigan and Massachusetts.
Outlook
For the second half of 2015, we observe more than $5 billion pending deals in the pipeline. The biggest deals are in the ICT sector, with two big investments in US semiconductor companies: the acquisitions of Omnivision ($1.9 billion) and Integrated Silicon Solution Inc. (about $765 million). Not yet counted in our pipeline because the parties have not provided sufficient confirmation yet is Tsinghua Unigroup's reported takeover bid for US chip maker Micron for $23 billion, which would be the biggest Chinese acquisition in the US to date (by a factor of 3).
Other significant deals in the lineup for 2H include AVIC's $800 million acquisition of automaker Henniges and Fosun's acquisition of US insurance assets (Meadowbrook Insurance for about $433 million and a remaining 80% in Ironshore for about $1.84 billion).
Several large, multiyear greenfield investments are waiting to break ground, including Volvo Car's $500 million factory in South Carolina and Hazen Real Estate's $700 million Figueroa Street development in LA. The strong pipeline is very likely to push the total investment value for the full year 2015 over the $10 billion mark again.
Back to Top