Note
Coal Quarterly: Profits Rise but Employment Falls
Last month, in a report for the Columbia University Center on Global Energy Policy, we assessed the odds that the US coal industry makes a comeback under the Trump Administration . In this note, we take a look at how the industry fared during the first quarter of the year, drawing on new data released last Friday from the Mine Safety and Health Administration (MSHA).
A Good Quarter for US Coal
As highlighted in our Columbia report, US coal demand is highly sensitive to changes in natural gas prices, and prices were higher during the first quarter of 2017 than during the same period the year prior (due primarily to colder weather). As a result, coal consumption at the power plants tracked by consultancy Genscape was up 7% year-on-year (Figure 1).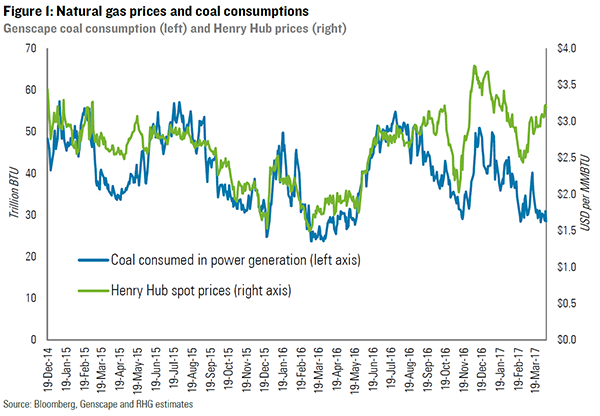 Last Friday MSHA released mine-level production and employment data for Q1, and this weather-driven uptick in demand appears to have translated into an increase in US coal production. Output came in at 197 million short tons in the first quarter. That's down a bit from the 200 million short tons mined in Q4 2016 (and still 25% lower than Q1 2011) but up 14% year-on-year from the Q1 2016 (Table 1). The biggest recovery was in the West, with Wyoming production up 23% YoY and Colorado up 52%. West Virginia production increased 21% yoy in Q1, while Kentucky output remained flat.
This increase in production contribute to relatively strong Q1 earnings from some of the largest US coal companies. Both Peabody and Arch, the two largest domestic coal producers, reported positive net income in Q1 (Figure 2). For Peabody, it was the first profitable quarter (on an adjusted net income basis) since 2013. For Arch it was only the second since 2011. Yet for both companies, a more important factor in their Q1 earnings than the rebound in domestic production was an increase in global metallurgical coal prices due to Cyclone Debbie taking out a large chunk of Australia's met coal production.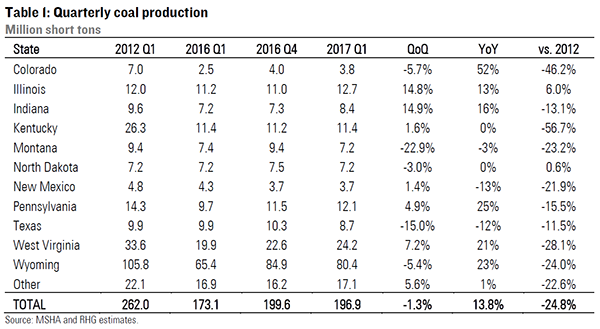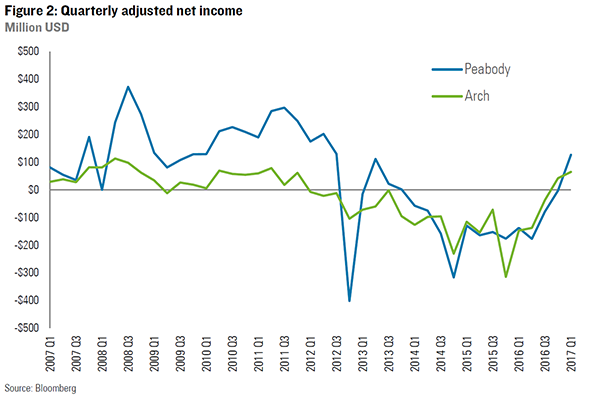 Coal Employment Continues to Decline
While Q1 was relatively positive for US coal companies, it wasn't good enough for them to resume hiring. According to the MSHA data released last Friday, total coal mining employment (including contractors) was down 7% year-on-year, and 2% quarter-on-quarter (Figure 3 and Table 2). US mining employment now stands at 73,152, 45% lower than it was just five years ago. There was a small quarter-on-quarter increase in full time mining employment during Q1 (1%), but a 4% decrease from the same period in 2016. And contract employment fell by 8% QoQ and 16% YoY, pulling down the total numbers.
Geographically, Ohio saw the biggest decline with employment down 15% QoQ and 32% YoY (excluding contractors which MHSA does not break down by state). Wyoming employment increased by 0.6% QoQ but is down 11% from the same period last year. West Virginia employment expanded by 7% QoQ and 5% YoY, but still remains 47% lower than 2012.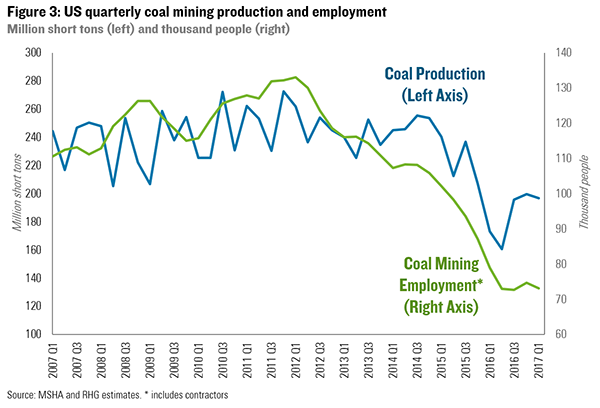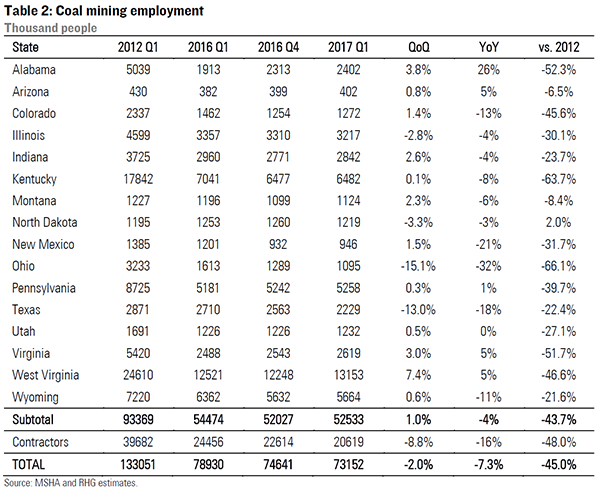 Staying the Course
The bottom line of our report last month was that US coal employment is unlikely to return to pre-2015 levels regardless of what policies the Trump Administration adopts, and that meaningful job creation in coal communities will only come through economic diversification. There is nothing in the Q1 data that makes us rethink that conclusion.  The mini-rally in US production and company profits was primarily weather driven and thus unlikely to be sustained. And as the Q1 data shows, higher production and profits do not necessarily translate into an increase in mining employment. Building a more diversified, resilient, and prosperous economic future in coal communities will not be easy. But it's possible, as long as policymakers and community leaders stay focused, and don't get distracted by short-term fluctuations in the market.
Back to Top