Note
Iran Sanctions: The Year in Review
Trade data on how Tehran fared under the first year of international sanctions aimed at choking off the country's crude oil exports is now available. We offer a roundup of Iranian oil exports in 2012 and discuss the outlook for the year ahead. 
Iranian oil exports definitely took a hit:  Tehran's crude oil sales fell 36% in 2012 to 1.5 million bbl/d. Among Iran's major customers, sales to Europe were hit hardest – down 78% year-on-year – followed by Japan at 40% and Korea at 36%. Chinese imports were down 21% while Indian imports declined by 12%. Overall, Iranian export revenue was 35% lower in 2012 than in 2011.
Clawing back from a tough summer:  Iranian exports hit their lowest point during the summer, right after the European import ban and US financial sanctions took effect. Tehran shipped less than 1 million bbl/d in July and earned 70% less in export revenue than the same month in 2011. But sales to Japan, China and Korea have recovered since then. In December, Iranian crude exports were back to 1.46 million bbl/d, with revenue only 27% below 2011 levels.
But Washington isn't done yet:  Trading partners will have to post additional declines in the quantity of Iranian oil they consume to continue steering clear of existing sanctions. More importantly, new sanctions that took effect last week prohibit Iran's oil customers from paying for their oil with hard currency, significantly increasing the economic pressure on Tehran. 
---
How Iran Fared Last Year
On New Year's Eve 2011, President Obama signed into law the National Defense Authorization Act (NDAA), which called for the imposition of US financial sanctions on anyone settling oil trades with the Central Bank of Iran (CBI) by June 28, 2012. The NDAA included exceptions for countries that "significantly reduced" the amount of Iranian crude they consumed. Then in early 2012, the EU announced a ban on crude oil imports, also scheduled to take effect during the summer.
The combined impact of these two actions on Iranian crude oil exports has been significant. Average Iranian oil sales fell by 36% in 2012, from 2.4 million bbl/d to 1.5 million bbl/d (Figure 1). Japan and most European countries won an exception in March for "significantly reducing" purchases of Iranian crude, with Tehran's other customers receiving exceptions in June. Japan and European customers got their exceptions extended in September, with the rest receiving extensions at the end of last year.
We don't know exactly how much Tehran was able to sell oil for in 2012 as Western sanctions have raised the cost of doing business with Iran and increased the negotiating leverage of Tehran's customers. Assuming Iran was able to sell every barrel at the Official Selling Price (OSP) posted by the state oil company NIOC, export earnings were down $33 billion last year. While a 35% decline from 2011 levels, historically high oil prices meant 2012 was still Tehran's third best year in recent history, despite a nearly 1 million bbl/d decline in export quantity. But payment delays and discounts, coupled with rising production costs and government revenue needs, meant the up to $65 billion Tehran invoiced wasn't fully paid and still wasn't enough to keep the country's balance of payments in check. By the end of the third quarter the market value of the Rial had fallen by two thirds, prompting merchants to take to the streets in protest.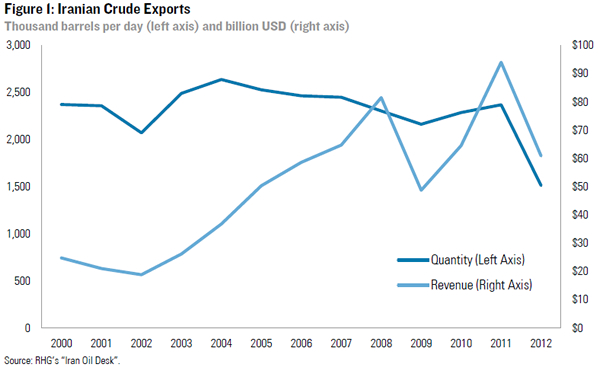 In terms of individual consumers, European refineries posted the sharpest decline in Iranian crude imports thanks to the EU-wide ban – down 77% year-on-year in 2012 (Figure 2). Among Iran's other big customers, Japanese imports were off 40%, with Korea a close third at 36%. Chinese imports were down 21%, followed by Turkey at 18% and India at 12%. Taiwan has cut Iranian imports close to zero, as has South Africa, Singapore and Malaysia.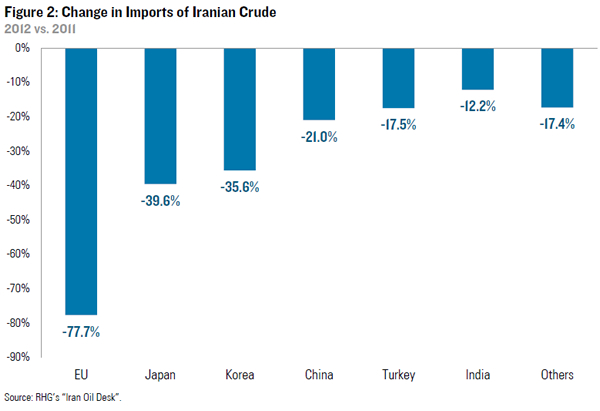 Clawing Back from a Tough Summer
Iranian exports hit their lowest point over the summer, shortly after the US financial sanctions and EU import ban took effect. Tehran shipped a mere 940,000 bbl/d of crude in July, down 67% from the same month in 2011 (Figure 3). And with oil prices a little lower than during the prior summer, monthly revenue was down 70% (Figure 4). Japanese and European imports fell to zero in July and Korean imports fell to zero in August. Chinese imports were down 30% year-on-year and Indian imports were down by 40%.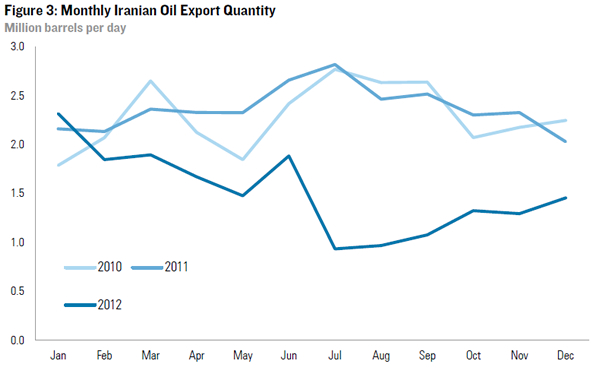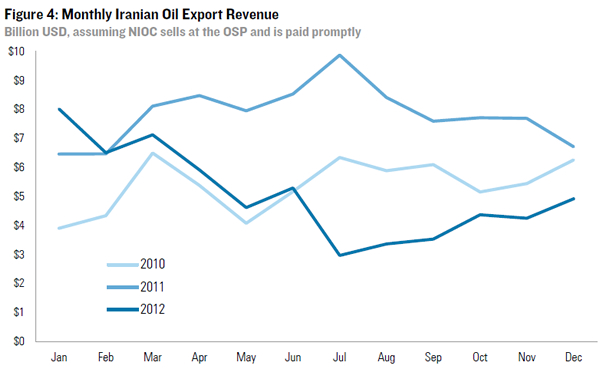 During the fall, however, Iranian exports began to recover. While the EU export ban continued to keep Iranian oil out of Europe, Japan and Korea started buying again, with each country importing just under 200,000 bbl/d by the end of the year (monthly data by country is available at /interactive/iran-oil-desk). Indian imports recovered slightly and Chinese imports ended the year at just under 600,000 bbl/d – the same as in December 2011. Oil prices firmed up a bit as well, pushing monthly export revenue (assuming NIOC sells at its OSP and payment is prompt) up from $3 billion in July to $5 billion in December (Figure 4).
But Washington Isn't Done Yet
The rebound in Iranian oil exports in recent months certainly doesn't mean Tehran is in the clear. While all major Iranian crude customers have secured an exception from the US, those exceptions expire after 6 months and countries must demonstrate an additional "significant reduction" to win an extension. The State Department has not publicly defined what "significant reduction" means – either in terms of quantity or the base against which it is measured. During the second half of 2012, Iranian oil exports were down by 51% year-on-year with all Iranian customers reducing by at least 20% (Figure 5).  But China's cuts were front-loaded in the first half of the year and imports increased by 4% during the second half when measured on a half-on-half basis (Figure 6).  
Iran's trade partners will likely need to show at least a 15% reduction during the first half of 2013 to win another exception. Assuming European imports stay at zero, that would bring Iranian exports back down to 1.4 million bbl/d if calculated on a year-on-year basis and just under 1 million bbl/d if calculated half-on-half.
More important from the standpoint of the effectiveness of sanctions in prompting a change in policy in Tehran, is the country's ability to get paid for the oil it sells. New sanctions took effect last week that prevent countries that import Iranian crude from paying for the oil using hard currency. Instead, the money must be kept in an escrow account inside the consuming country which Iranian importers can tap to buy goods and services. This will significantly increase the macroeconomic stress imposed by the sanctions, will leave Iran short of a wide range of goods and services Iranian's expect, and raises the odds of a balance of payments crisis this year.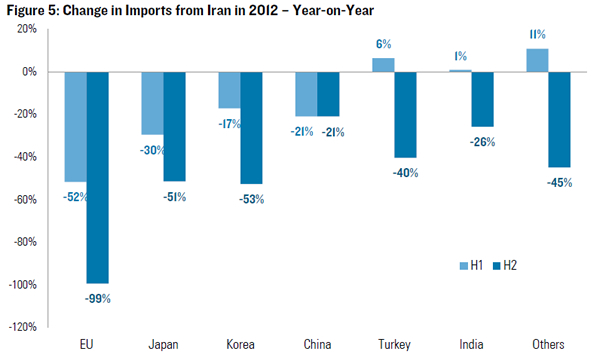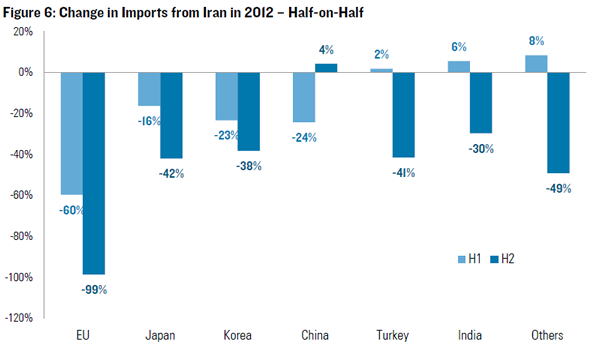 Back to Top