Report
China Pathfinder: Annual Scorecard
China Pathfinder is an initiative from the Atlantic Council's GeoEconomics Center and Rhodium Group that seeks to measure China's system relative to advanced market economies. The goal is to shed light on whether China's economic system is converging with, or diverging from, open market economies. This report examines six elements of the market economy model: financial system development; market competition; modern innovation system; trade openness; direct investment openness; and portfolio investment openness. With the launch of an annual scorecard, and quarterly updates, China Pathfinder aims to put recent developments like the crackdown on private technology companies, Beijing's "dual circulation" strategy, and the debate over "common prosperity" into a broader framework to help policymakers and businesses assess China's economic trajectory.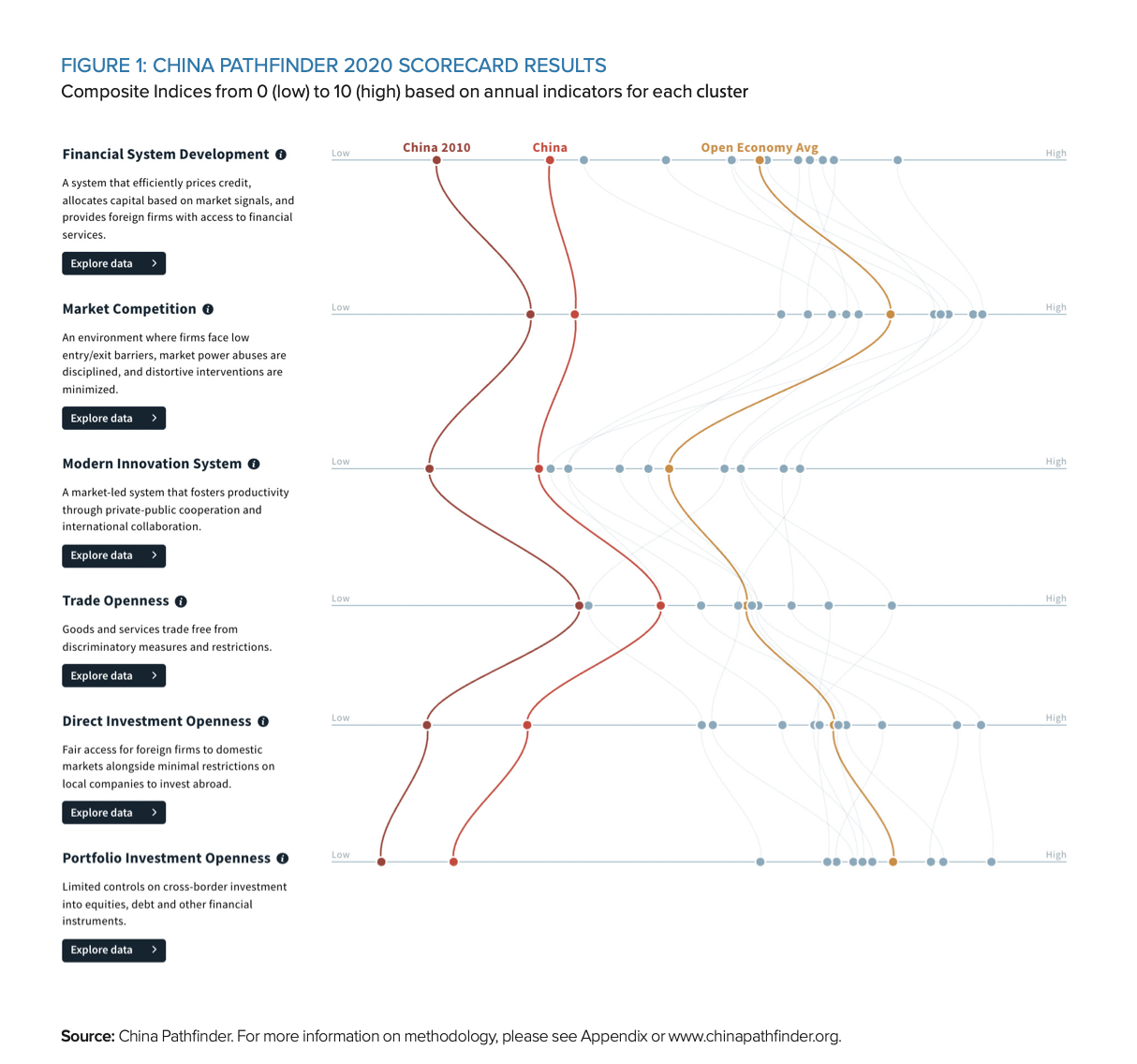 Key Findings
China has generally moved toward market economy norms over the past decade. The current fashion in China analysis is to downplay any serious reform effort by Beijing, and to emphasize an enduring Chinese strategy of state control. Both Chinese officials and US strategists repeat this ahistorical view. The China Pathfinder benchmark indicators show that China has made some progress in all six dimensions since 2010.
Despite making some progress over the past decade, China in 2020 remains remote from the characteristics typical of open market economies. Movement since 2010 has been modest, and Beijing is well short of expectations set as a condition of World Trade Organization (WTO) accession that it would achieve "market economy" norms. The Xi era pledge to "make the market decisive" remains unfulfilled, seven years after this reform goal was initially announced. China ranks last in five out of China Pathfinder's six clusters when compared to open market economies.
China has made demonstrable progress in some areas, but has a long way to go in most. In openness to trade, China is inside the market-economy range. In most other areas, however, China's distance from advanced economy norms remains striking and problematic. The biggest shortfalls are in structural areas like market competition, which are hard to measure and harder to discipline with established international tools.
Within each of the six areas, we observe a mix of reform, stagnation, and backsliding. China is open in goods trade, but remains closed on digital services trade. Beijing has proceeded to liberalize some inward portfolio flows, while barriers to outbound flows remain high. Within its innovation system, China has progressed on protecting intellectual property, but ramped up industrial policies and distortive subsidy programs.
The most recent policy signals are at odds with a market orientation. Since 2016, Beijing has experienced serious reform setbacks and, by 2021, even perennial optimists were shocked by anti-market trends including: resurgent state ownership and extralegal influence; eroding freedom for firms to use capital markets at home and abroad; the overnight shutdown of entire sectors, such as for-profit education; regulations that effectively nationalize the data collected by technology companies; and an overreach by state planners in shaping the market structure of tomorrow.
China Pathfinder
Back to Top