Report
It's Not Easy Being Green: Stimulus Spending in the World's Major Economies
As world leaders grapple with the economic damage of the COVID-19 pandemic, many are turning to large-scale public investment in stimulus and recovery measures. As of mid-June, the International Monetary Fund (IMF) estimated an unprecedented fiscal response of $11 trillion, including $5.2 trillion in direct budgetary measures and $5.7 trillion in liquidity support. As governments plan massive new public investments, the International Energy Agency and leading economists are urging governments to avoid the lock-in of existing fossil infrastructure, by directing stimulus toward green measures that can build the foundation for a zero-emission future. At this early stage of the pandemic and global economic crisis, few governments have heeded this advice. As the immediate health crisis recedes, attention and funding will turn toward economic recovery, creating more opportunities to build back cleaner. A deeper understanding of countries' unique fiscal and political landscape can help clean energy advocates capitalize on opportunities where they exist. In some cases, stimulus spending may not be the most effective approach.
Over the coming months, Rhodium Group will track green stimulus spending across the world's largest emitters—the United States, the European Union, China, and India, which together make up two-thirds of global GDP and over 50% of global greenhouse gas (GHG) emissions—and provide important context on the nature and scale of potential stimulus measures. To date, only the EU has committed to green a meaningful share of its stimulus—20% of its total stimulus spending so far. The US, India, and China have each allocated only 1-3% of COVID-specific spending toward green stimulus. The extent to which these economies focus their recovery on green priorities in the months ahead will provide important insight into the outlook for achieving deep decarbonization in a post-COVID world.
Note: Rhodium Group published an updated report on February 4, 2021, available here. Our Green Stimulus Tracker also provides regularly updated data. 
An unprecedented global economic crisis
This year is expected to be the deepest global recession since World War II. In 2009, at the peak of the global financial crisis, world GDP contracted by 0.1%. This year, the IMF projects a 4.9% decline in global economic output. The impacts vary widely across countries, with advanced economies faring worse on average (8% decline) than emerging economies (3% decline). The US and Euro Area are expected to see even greater reductions of 8% and 10.2%, respectively. As of June, India is on track for a contraction of 4.5%. While China is expected to see real GDP growth of 1% this year, it still represents a significant drop from previous targets of 6%.
In response, countries are investing heavily in government spending to jump-start growth. In June, the IMF forecasted that government debt will reach an all-time high, exceeding 101% of global GDP in 2020-2021—a jump of 19 percentage points from 2019. G20 countries as a whole are providing sizable fiscal support, including $4.8 trillion (5.8% of total GDP) in budgetary measures (direct spending and forgone revenues) and $5.4 trillion (6.4% of GDP) going toward off-budget liquidity (e.g., loans, equity and guarantees).
In this section, we look across the world's four largest emitters—the United States, the European Union, China, and India—to assess the comparative scale of total COVID-19 related stimulus spending to date, to provide a basis for comparing green stimulus measures in the following section. To provide an apples-to-apples comparison of the scale and flavor of government stimulus, we focus narrowly on discretionary budgetary measures adopted in response to the COVID-19 crisis. This will help identify the extent to which governments are prioritizing green measures through direct spending.
Using government data and IMF estimates from its June Fiscal Monitor Database, we estimate the level of discretionary fiscal stimulus measures (including direct government budgetary measures but excluding loans, equity, and guarantees) made to date this year in direct response to the COVID-19 pandemic. We try to exclude fiscal support measures that would have occurred absent the pandemic.
Using this metric, we find a wide divergence in approaches across the world's four largest emitters (Figures 1 and 2). The US leads the pack on the absolute value of discretionary stimulus spending ($2.44 trillion) and as a share of GDP (11.4%). [1] The EU and its member states have adopted or announced stimulus packages—including the recent Next Generation EU fund—of $1.36 trillion (10.4% of EU-wide GDP). China and India come in significantly lower, at $521 billion (3.7% of GDP) and $35 billion (1.2% of GDP), respectively.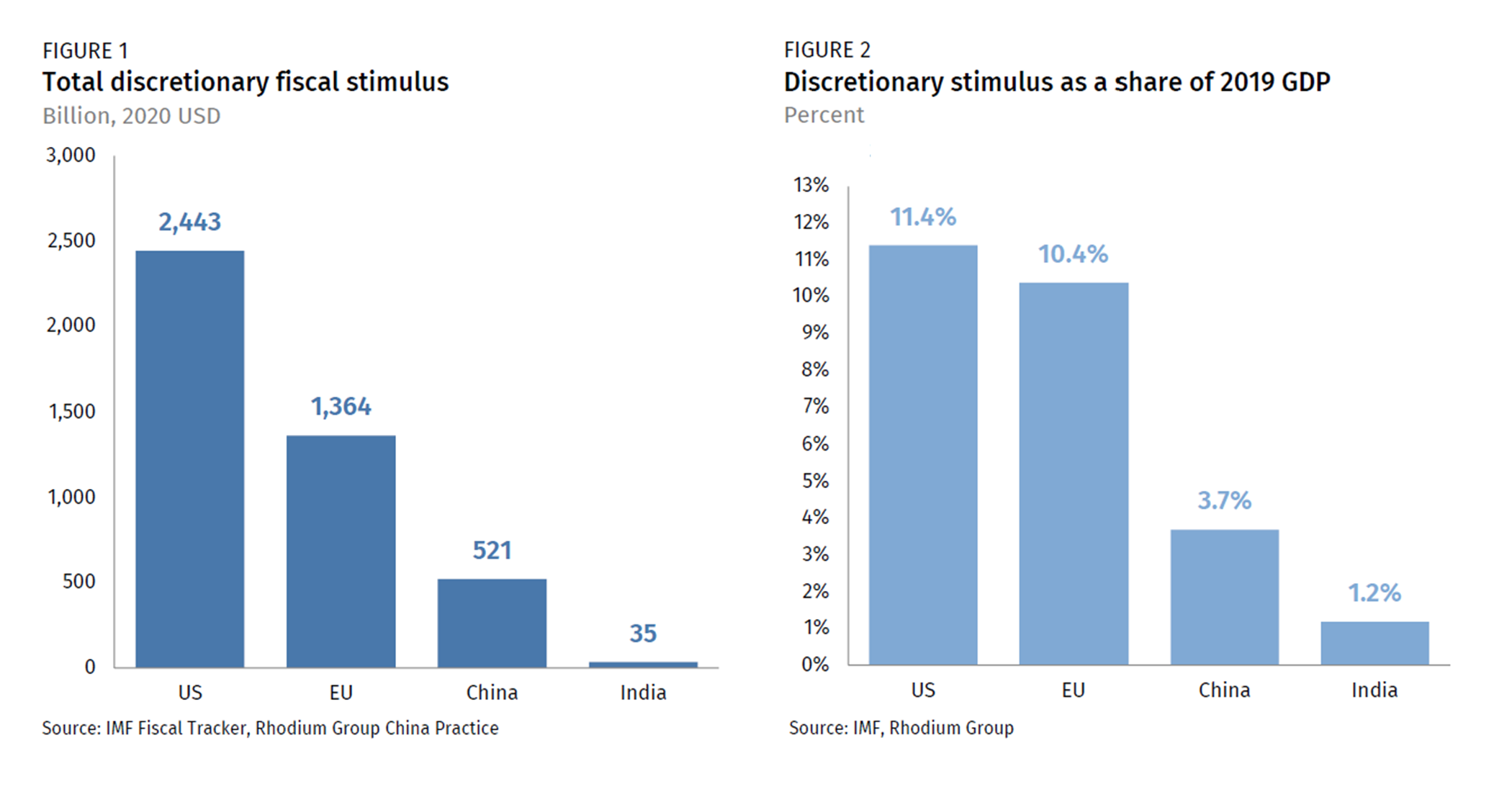 The scale of countries' discretionary stimulus spending is a product of several factors, including the scale of automatic stabilizers, baseline levels of state support for impacted industries, as well as the political context. Automatic fiscal stabilizers, for example, provide various types of income support to those affected by an economic downturn (such as expanded unemployment benefits, income support, rental assistance, or cash benefits) without the need for new money being appropriated. As such, powerful automatic stabilizers as often found in Europe, will reduce the need for discretionary spending in a crisis, but still add to government deficits. In the full report, we provide an overview of the scale and approach to stimulus measures in each of these major economies.
It's not easy being green
Although global GHG emissions plunged this spring—dropping 17% at the peak of the lockdowns in April—they have rebounded astonishingly quickly as economic activity ramps back up. Drawing on the lessons of the Great Recession, leading economists have warned that recovery measures could lead to a similar resurgence in emissions unless stimulus funding is channeled to clean energy and transportation infrastructure, natural capital investments, clean energy R&D, and other "green" investments.
The International Energy Agency (IEA) has called on governments to put the development, deployment, and integration of clean energy technologies at the center of their economic recovery plans. The potential for large-scale government investment presents an opportunity to both sustain green industries that have been harmed by the pandemic and economic crisis, and increase the resilience and sustainability of the economy as a whole by prioritizing measures that help all industries transition to a greener future. The IEA and other experts argue that building back better, if done right, can create new jobs and even begin to address long-standing environmental injustices.
In this early stage of the pandemic and global recovery, most governments justifiably have targeted the first wave of stimulus measures on the most pressing priorities: supporting the public health response and providing direct help to households, businesses, and frontline workers. But as the more immediate crisis progresses into a longer-term economic downturn, there will likely be more opportunities for a broader range of spending priorities, including green ones, to gain traction.
As the economic crisis evolves over the coming months, Rhodium will be tracking stimulus spending by the world's four largest greenhouse gas emitters—the US, the EU, China, and India—and the extent to which stimulus spending goes toward green, climate-related priorities. Based on our initial estimates of spending announced to date, we find that the EU and its member states lead the pack with an estimated $249 billion in total green spending (20% of total EU and member state stimulus) (Figures 3 and 4). The US comes in at a distant second in terms of scale with $26 billion, but that represents only 1.1% of overall US stimulus funds to date. India's green share is more than double that of the US (2.4%), but we estimate the overall scale of spending at only $830 million. China's green spending totals $1.43 billion, representing only 0.3% of total stimulus spending.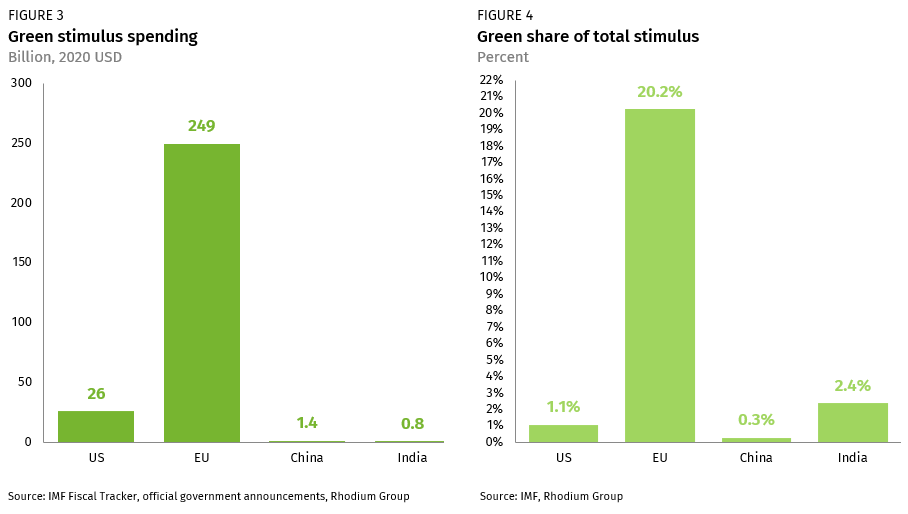 Fatih Birol, the Executive Director of the IEA, called the current crisis a test for governments of their commitment to the major challenge of our time: climate change and the clean energy transition. Integrating climate and clean energy into large-scale stimulus investments is just one measure of world leaders' climate commitment, however. For countries without a solid policy framework to reign in greenhouse gas emissions, stimulus may be one of the most promising vehicles for advancing green priorities (as is the case in the US). On the other hand, where climate policies already place guardrails on the major sources of emissions (as in the EU and many of its member states), stimulus spending can be a useful accelerator of progress but is not the primary vehicle for driving down emissions. And in countries like India, where large-scale stimulus measures are not the main tool for economic recovery, there may be other, more effective options for accelerating clean energy deployment. In the full report, we provide some necessary context to understand the scale and importance of green stimulus as part of a path toward a clean energy transition for the world's major economies.
Greener pastures ahead?
Although we are now eight months into the global pandemic—which has felt like a lifetime to most people—we are still at the very early stages of the global economic crisis and of countries' responses to stimulate recovery. Integrating green spending into forthcoming stimulus spending is a goal championed by the UN, IEA, and a wide range of economists, and many groups have begun to track the amount and scale of green (and fossil) investments to hold leaders accountable. As we highlight above, this tracking can be most effective when it is grounded by a true apples-to-apples comparison across economies, as well as a deeper understanding of the fiscal and political context of each country. Over the coming months, Rhodium will be tracking green stimulus spending across the four major economies and provide crucial insights about the potential for COVID-related stimulus spending to deliver on the world's climate objectives.
[1] We use 2019 GDP for consistency given uncertainty in estimates of 2020 GDP.
Read the Report
Read our Feb 4, 2021 Update
Back to Top